Many urologic disorders and illnesses are unique to kids and may have a serious impact on a child's overall well-being. That's why it's important to trust your child's care to a dedicated team of specialized pediatric urologists. Our team has more than 100 years of combined experience diagnosing and treating disorders affecting reproductive and urinary organs in children. This expertise is one of the many reasons our Division of Urology is ranked among the best in the nation by U.S. News & World Report.
Our Providers
Our pediatric specialists provide personalized care for your child's physical, mental and emotional health needs.
Contact Information
For appointments, please call 1-888-884-BEAR (2327) and for information, call 202-476-5042. 
Expert Urology Care at Children's National Hospital
At Children's National, we create a personalized treatment plan for every child tailored to specific diagnosis, age and individual needs. We review our complex cases on a weekly basis with all of the pediatric urologists in our practice. That means you get multiple experts weighing in on the best treatment course for your child. Our urologists also partner with experts from other specialties at Children's National, including orthopaedics, endocrinology, genetics, psychology and pediatric gynecology, ensuring that care is seamlessly coordinated. You can be confident that your child is receiving the most skilled diagnosis and care in an environment designed to be comfortable for children and their families.
The Urology team is led by Hans Pohl, M.D., and includes nine other fellowship-trained pediatric urologists and three nurse practitioners. H. Gil Rushton Jr., M.D., emeritus chair and faculty of the division, has been part of the Children's National Urology team for more than 30 years, leading innovations that make surgery less invasive and easier on children and families.
At Children's National, the Urology program offers:
Advanced diagnostic testing. We are national experts in two of the most advanced nuclear study tests used today for diagnosing problems in the kidneys and bladder: the Mag-3 diuresis renal scan and DMSA renal scan. We also offer the only pediatric video urodynamics lab in the greater Washington, D.C., area, which allows for state-of-the-art evaluation and management of the bladder in children with more complex voiding disorders.
A family-centered environment. You can stay close by or even with your child for many of the diagnostic tests and procedures we perform. We make sure you know what to expect at every step of the care journey, from diagnosis through treatment and surgery, and are informed about all of your child's options.
Convenient scheduling and locations. We offer consultations at any of our specialty care locations in the D.C., Maryland and Virginia area. To make the process easier for your family, we are able to schedule all imaging tests for the same day as your clinic appointment whether it is in-person at the main hospital or a virtual visit.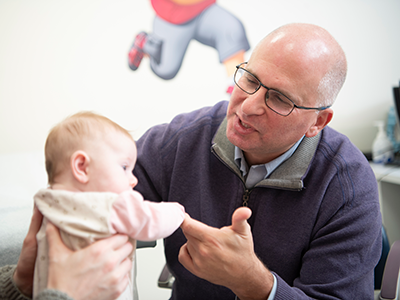 Collaborative Care
Our Urology team collaborates with the Division of Pediatric Colorectal & Pelvic Reconstruction providing specialized care for colorectal conditions in children. Urologic procedures are often combined with colorectal procedures to minimize the amount of surgeries a child may require.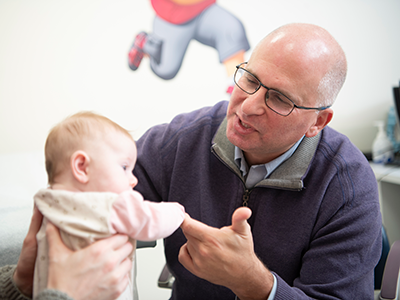 Urologic Surgery at Children's National
You can feel confident that your child will receive the utmost care and they will be in the hands of one of the most experienced, precise and innovative surgical teams in the country. Children's National has attained Level 1 Surgery Verification from the American College of Surgeons, a distinction that recognizes surgery centers that have improved surgical quality, prevented complications, reduced costs and saved lives. We regularly repair the most complex conditions, ones that other centers in the region might handle only once or twice a year.
Whenever possible, we use minimally invasive surgery to speed up recovery, reduce pain and keep scarring to a minimum. We are the only hospital in the Washington, D.C., area that offers pediatric robotic surgery, including use of the da Vinci® robotic surgical system, which allows our surgeons to perform precise movements for even the smallest patients. And our urologic surgeons aren't just performing robotic surgery – we are active in the development of new, assisted procedures that can improve outcomes and recovery.
Specialized Urology Programs and Related Services
Specialists in our dedicated clinics offer additional support and resources for you and your family. Some of these programs are offered wholly through Urology, while others depend on collaboration with departments and specialties across Children's National to provide your child with the best care:
Colorectal & Pelvic Reconstruction. Provides leading-edge diagnosis and treatment for every type of colorectal disorder that can occur in infants, children and adolescents.
Positive Reevaluation of Urogenital Differences (PROUD) Clinic. Focuses on evaluation, treatment and counseling for children born with sex development disorders. The program includes the expertise of an urologist, pediatric gynecologist, geneticist, endocrinologist, mental health expert and nurse coordinator.
Prenatal Pediatrics Institute. The Prenatal Pediatrics Institute at Children's National Hospital in Washington, D.C., provides specialized care for babies during pregnancy, delivery and after birth.
Spina Bifida Program. Focuses on evaluation, management and surgery for children born with neuropathic bladder dysfunction associated with spina bifida and other neurological disorders. Our Spina Bifida team works closely with colorectal surgery to manage constipation and stool incontinence.
Spine Program. Children's National offers children with spinal deformities a range of treatments, including innovative casting techniques, and hope for a bright future.
Transitional Urology. Our team provides highly individualized, integrated care that helps complex adolescent patients and their families transition from pediatric to adult care.
Urodynamics Program. The Urodynamics Testing team collaborates with programs throughout Children's National Hospital to provide the best care possible to your child. In addition to working with our Spina Bifida Program, our specialists work with colorectal experts and are informed by guidance of the Spina Bifida Association.
Urinary Stone Program. The Urinary Stone Program brings together pediatric specialists in Urology, Nephrology, and Nutrition to treat children affected by conditions including kidney stone, ureteral stones and bladder stones.
Healthy Urinary Guidance & Support Clinic. Focuses on helping children with day or night-time urine incontinence and urine infections.
Pediatric Gynecology Program. When your child needs specialized gynecologic care, Children's National Hospital has the experience and expertise to provide the most appropriate care for younger patients.
Contact Information
For questions or concerns about the Division of Urology, please contact us.