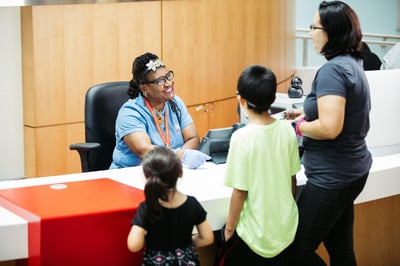 Family-centered care at Children's National Hospital means you and your child have rights and responsibilities. We listen and communicate with you about every stage of your child's care, and support an honest, open dialog between you and all members of our team, including the doctors, nurses, and support staff. We aim to provide culturally sensitive care, respect your privacy, and educate you to make informed decisions about your child's care.
As the parent of a patient, we ask that you communicate to all staff, visitors, and other families, in a respectful and courteous manner. For the benefit of your child's care, inform the healthcare team about your child's condition, past illnesses, and medicines, and follow the doctor's instructions and treatment plan.
The full text of Children's Patient and Family Rights and Responsibilities and the Notice of Privacy Practices can be requested from the Welcome Desk, or can be found in these links:
We Want to Hear from Parents and Patients
We value your feedback and appreciate comments about your experience with Children's National Hospital. During your stay, communicate with your child's care team about any special concerns or requests. If a member in your child's unit is unable to respond to questions or assist you, please ask to speak with a manager.
Who to Contact at Children's National
Family Services
If you have concerns about assistance with your child's current inpatient care team, please call Family Services at 202-476-3070 and ask to speak with a social worker.
Ombudsman Team
If you would like to share your experience or make a complaint, please contact the Ombudsman Team at 202-476-2064, who will assist with follow up by the appropriate Children's National representative.
Who to Contact Outside of Children's National
Joint Commission
Mail:
Office of Quality Monitoring
Joint Commission
One Renaissance Blvd
Oakbrook Terrace, IL 60181
Phone: 800-994-6610
Fax: 630-792-5636
E-mail: [email protected]
Web site: http://www.jointcommission.org/
The District of Columbia Department of Health Regulation Administration
Mail:
Department of Health
Government of the District of Columbia
825 North Capitol Street, NE
2nd Floor
Washington, DC 20002
Phone: 202-442-5888
Health Information Exchange Access
If you would like to receive a report on which healthcare providers have accessed your record on the Pediatric Health Network IQ (PHNIQ) electronic health exchange (formerly the Children's IQ Network), please email us.
Patient/Family Satisfaction Survey
After your child receives care in our hospital, one of our specialty clinics or our Emergency Department, you may receive a survey in the mail or by email. The survey asks about the quality of care, and how the care team treated you and your child during your child's hospital stay or visit.
Patient and family feedback on these surveys helps us continue focusing on what we do well, and to make improvements where we can be better. The survey should take about 10 minutes to complete. We hope you will help us if you receive a survey.
Advance Directive
If you are 18 years or older, you may write an advance directive. The advance directive would say what medical care you wish to receive in the future. You may also name a person who can make medical decisions for you if you are unable to make them yourself. If you would like more information about an advance directive, please ask at the desk.
Si tienes 18 años de edad o eres mayor, puedes escribir un testamento vital. El testamento vital indica que tratamiento médico deseas recibir en el futuro. También puedes nombrar a una persona que pueda tomar decisiones médicas por ti, si tú no las puedes tomar. Si deseas más información acerca del testamento vital, favor de preguntar en recepción.