Children's National Hospital Receives $96 Million Investment for Rare Pediatric Brain Tumor Research & Care
The transformational investment is one of the hospital's largest donations ever. It will power discoveries and revolutionize care for children and families who receive a brain tumor diagnosis.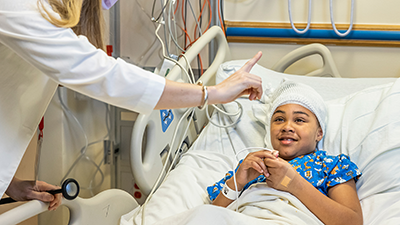 Children's National Hospital announced a $96 million investment from an anonymous donor family that strengthens its globally recognized leadership to transform rare childhood brain tumor research and care. It is one of the largest donations in the hospital's history. It allows Children's National to recruit more top talent and advance the most promising research for safer, more effective treatments. The investment will elevate standards of care to help children with rare brain tumors thrive for a lifetime.
"This incredible partnership will lift up one of the nation's top pediatric brain tumor programs into the stratosphere," said Kurt Newman, M.D., president and CEO of Children's National. "It will immediately propel our best-in-class research and care, allowing us to bring new therapies to children with brain tumors. This fundamentally changes the healthcare journey and long-term outcomes for children and their families."
Brain tumors are the most common solid tumors affecting children. They are especially challenging in kids because their brains are still developing. The disease and current treatments can put them at risk for lifelong complications.
The anonymous donor family brings a depth of compassion for children facing rare and often challenging diagnoses. Their partnership will advance every aspect of the hospital's leadership to benefit kids with rare brain tumors.
The new funding will:
Radically transform the research landscape by fueling highly individualized, safer therapies to provide the best outcomes; funds will rapidly advance promising novel approaches led by Children's National to revolutionize treatment for these cancers — including cellular immunotherapy, low-intensity focused ultrasound, neurosurgical innovation and precision medicine
Establish "gold standard" clinical care models that help kids live well and cope with the unique circumstances of their diagnosis for their lifetimes; bolster programs that nurture patient and family resilience and well-being, including mental health, neuroscience nursing and child life; and provide critical supports to the whole family before, during and after diagnosis
Delivering world-class care to every child who needs it requires partnerships and this donor family's generosity is remarkable," said Horacio Rozanski, chair of the Children's National Board of Directors. "Pairing their philanthropy with our brightest minds in research and care will spark the development of new and better ways to care for children with rare brain tumors."
This investment will propel the hospital's longstanding efforts to drive research and new clinical trials through its national and global leadership in pediatric brain tumor consortia. Already, Children's National is leading a new collaborative with hospitals in North America, South America and Europe to better understand and find novel treatments for these rare diseases.
About Children's National Hospital