Our Division of Hematology is one of the largest pediatric hematology programs in the country. Our
pediatric hematology specialists
are recognized leaders in the field, which helps us deliver advanced care for rare conditions, such as anemia, hemophilia and histiocyte disorders. In addition, our team of physicians and therapists are experts in caring for kids. We have our own blood bank and we are a nationally recognized buddy program for our chronically transfused patients with sickle cell anemia.
Our Providers
Our pediatric specialists provide personalized care for your child's physical, mental and emotional health needs.
Contact Information
To make an appointment, please call 1-888-884-BEAR (2327). For information, call 202-476-2140. 
Hematology at Children's National: Why Choose Us?
Children have complex blood clotting systems that change as they grow. At Children's National, our understanding of pediatric blood disorders and the many ways in which they affect your child's well-being helps us deliver the best care.
Highlights of our program include:
Comprehensive care. Children's National has one of the largest and most active pediatric sickle cell programs in the country, treating 10-20 children with sickle cell each day. If your child has sickle cell disease, we will coordinate and deliver specialized care to meet all of his or her health needs, including anything from specialized pain management to dental care. Learn more about our Comprehensive Sickle Cell Disease Program.
Safety. We protect children from life-threatening blood clots during their hospital stay, regardless of whether they have a blood disorder diagnosis. Learn more about our Comprehensive Hemostasis and Thrombosis Center.
Effective pain management. Our Sickle Cell Integrative Pain Clinic offers complementary non-opioid approaches to managing pain, including aromatherapy, acupuncture and physical therapy.
Innovative treatments. As one of few programs in North America caring for rare histiocyte disorders, Children's National offers access to treatments that are not widely available. Learn more about our Histiocyte Disorders Program.
Seamless care. We work with experts across Children's National Hospital to deliver seamless care for complex conditions. Partnering with physicians from our Pediatric Gynecology Program, we offer one of few dedicated clinics for teen girls with heavy menstrual bleeding (menorrhagia).
Convenient care. With locations throughout the Washington, D.C., metropolitan area, we make it easy for your child to get the care he or she needs. In fact, our Montgomery County location receives more than 1,700 visits a year.
Each visit brought more information, and I grew to love spending time with [Dr. Luban], so I could learn how best to treat my condition.
Maura Trimble
Read Dr. Luban's Story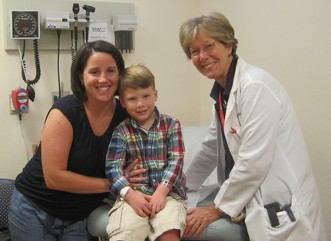 Family Resources
At Children's National, we believe that comprehensive care for children also includes support for their families. We offer a range of special services and programs designed to help children and their families cope and resume some normalcy and predictability in their lives.
COVID-19 Information For Families of Immunosuppressed Patients
Read our frequently asked questions about the impact of COVID-19 on immunosuppressed children.