Bunny Mellon Healing Garden
Open 8 a.m. - 6 p.m.
Children's National Opens Bunny Mellon Healing Garden dedicated to First Ladies of the United States
Kids receiving care at Children's National have a place to enjoy fresh air, the outdoors and inspiring views of the nation's capital.
Named after late philanthropist and horticulturalist Rachel "Bunny" Lambert Mellon, our Healing Garden is dedicated to the First Ladies of the United States in honor of their longstanding support to Children's National and the Washington, D.C., community. This beautiful outdoor area gives families dealing with health challenges a peaceful space to connect with nature and renew their spirits.
Children with serious illnesses often have very limited access to nature and miss feeling the warmth of the sun. Our spacious 7,200-square-foot rooftop garden advances our commitment to providing the best possible care and experience to each patient. You can view photos of the garden here and a time-lapse video of its construction.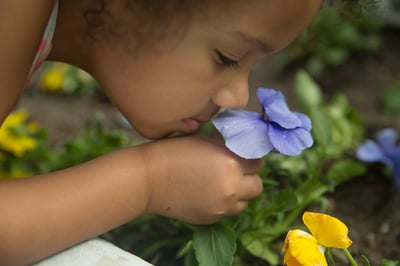 Located on the roof of the Children's National main campus outside the third floor main hospital, patients and visitors can relax at our soothing water feature, walk through our labyrinth for meditation and calming or simply enjoy trees, flowers and a variety of plants and shrubs. When you exit the elevators on the third floor, head down the hall in the direction of the Prenatal Pediatrics Institute and you will see the entrance to the garden.
This one-of-a-kind garden was made possible due to a multimillion-dollar gift from the Gerard B. Lambert Foundation, generous gifts from Heather and Andy Florance, the employees of CoStar Group and other donors.
Former first ladies Mrs. Michelle Obama, Mrs. Laura Bush, former Secretary of State Hillary Rodham Clinton, Mrs. Barbara Bush, the late Mrs. Nancy Reagan and Mrs. Rosalynn Carter are honorary chairs of the garden. In 2014, Mrs. Reagan agreed to serve and was an enthusiastic supporter because of her fond memories of her visits to Children's National. In addition, Susan Ford Bales, Julie Nixon Eisenhower, Lynda Johnson Robb and Caroline Kennedy agreed to serve on the Honorary Advisory Board for the Healing Garden.
Garden Room
The Lavinia Lemon Pitzer Garden Room opened in September 2023, thanks to the generosity of the Lemon Foundation. This acute care room overlooks the garden, allowing patients medically unable to visit the exterior space to enjoy nature. The room connects with the hospital's new spiritual care center that provides patients, families and staff with a place to reflect and find comfort. A gift from Panda Express made it possible.
The Healing Power of Nature - An Inspiring Start
The idea of creating a Healing Garden was inspired by a young patient whose last wish was to go outside. Unfortunately, the distance to a suitable outdoor area and the complex life support treatments the child's condition required made it a complicated dream for her care team to fulfill. After hearing about the heroic efforts of the Children's National doctors, nurses, engineers and others who were able to make that wish come true, Heather and Andy Florance volunteered to lead the campaign to raise the funds needed to design and construct the garden so more children could have access to the outdoors.
Honoring the Life and Legacy of Bunny Mellon
Well known for her lifelong passion for horticulture and gardening, Bunny Mellon redesigned the White House's Rose Garden and East Garden, named for her close friend, First Lady Jacqueline Kennedy. On March 17, 2014, at the age of 103, Mrs. Mellon passed away peacefully. Upon hearing of plans for the garden at Children's National and the inspirational story of a young patient's wish to go outdoors while undergoing long-term care, Mrs. Mellon's family agreed that there could not be a more fitting way to honor her legacy.
Additional Support Services at Children's National
Children's creates a healing environment through a variety of programs designed to comfort families during challenging circumstances.
Learn more about our:
Bunny Mellon Healing Garden in the News
Read the buzz about the Healing Garden's opening.
News Releases from Children's National