Resource
Child Life Services
Contact Us
Child Life Services can be reached at 202-476-8939. See our hours of operation at the main hospital.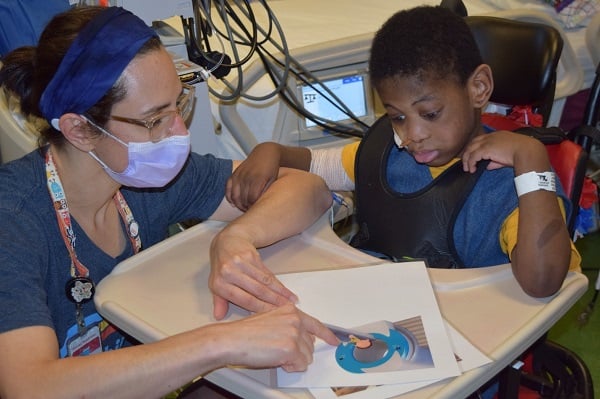 Putting Children at the Center of What We Do
Our team is specialty-trained and certified to help children, adolescents and families understand and cope with illness, injury, trauma, disability, loss and bereavement.

At Children's National Hospital, our certified child life specialists (CCLS) help create a positive experience for families during their child's outpatient visit or inpatient hospital stay. Each CCLS has completed clinical training, holds a bachelor's or master's degree and is certified through the Association of Child Life Professionals.
Our child life team promotes positive coping through play, self-expression activities, age-appropriate medical preparation and diagnosis education. These interventions help to reduce patients' fears and anxieties related to hospitalization and medical procedures.
Child life specialists are responsible for the management of play spaces, unit playrooms and teen rooms at Children's National Hospital. We provide games, toys and other play materials to normalize the hospital environment for patients of all ages. In addition, our team helps celebrate important milestones such as patient birthdays, end of treatment and discharges following lengthy admissions.
Medical preparation and pre-surgery teaching
Support during medical procedures
Therapeutic and medical play
Emotional support for patients
How Child Life Helps the Family
How Child Life Helps Kids at Home
Learn more about how Child Life Services can help through our supportive preparation resources.
Child Life Services Training Programs
Our Child Life Summer Volunteers help facilitate the normal growth and development of pediatric patients, as well as their adjustment to hospitalization through age-appropriate play opportunities. Activities take many forms such as arts and crafts, games, story time, special hospital events, Seacrest Studios activities, etc. Every volunteer reports to and is supervised by a certified child life specialist. Find out more on how to apply to the Child Life Summer Volunteer Program.
How to Donate
Children's National accepts brand new toys, books, clothes and gift cards for Dr. Bear's Closet. These donations are given to patients and family members during their hospital stay to provide comfort, play opportunities and to normalize the hospital setting.
At this time, we are able to accept donations via our Wish List or via mail only.
For more information, please review our Donation Guidelines and Wish List.
Talking to Your Child About Hospitalization
Learn about some age-appropriate guidelines from Children's National's Child Life Specialists to help prepare both you and your child.
Additional Contact Information
Child Life Department Phone: 202-476-8939
Hours of Operation: Monday–Friday: 9 a.m. – 5 p.m.
Saturday and Sunday on-call coverage: 9 a.m. – 5 p.m.
Sheikh Zayed (Main Hospital) Campus
Emergency Department: Monday-Saturday 12 p.m. – 10:30 p.m.
Surgery Center: Monday-Friday 6:30 a.m. – 5 p.m.
Radiology: Monday-Friday 7 a.m. – 3:30 p.m.
Learn more about the Sheikh Zayed Campus