Children's National competes in STAT Madness for second consecutive year
Children's "˜DNA Detectives' investigate patient's blood to better match treatments to brain tumors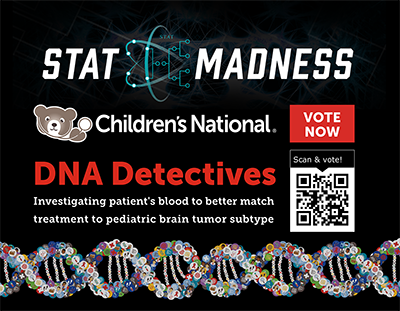 WASHINGTON
– For the second consecutive year, Children's National Health System was selected to compete in
STAT Madness
, an annual bracket-style competition that chooses the year's most impactful biomedical innovation by popular vote. Children's entry, "Sensitive liquid biopsy platform to detect tumor-released mutated DNA using patient blood and CSF," leverages a powerful new technique to look at a patient's blood to better diagnose, monitor and treat an especially aggressive type of pediatric brain tumor.
In 2018, Children's first-ever
STAT Madness
entry advanced through five brackets in the national competition and, in the championship round, finished second. That innovation, which enables more timely diagnoses of rare diseases and common genetic disorders, helping to improve kids' health outcomes around the world, also was among four
"Editor's Pick"
finalists, entries that spanned a diverse range of scientific disciplines.
"Children's National researchers collaboratively work across divisions and departments to ensure that innovations discovered in our laboratories reach clinicians in order to improve patient care," says
Mark Batshaw, M.D.
, Children's Executive Vice President, Chief Academic Officer and Physician-in-Chief. "It's gratifying that Children's multidisciplinary approach to improving the lives of children with brain tumors has been included in this year's STAT Madness competition."
Pediatric
brain cancers
are the leading cause of cancer-related death in children younger than 14. Children with tumors in their midline brain structures have the worst outcomes, and kids diagnosed with
diffuse midline gliomas
, including diffuse intrinsic pontine glioma, have a median survival of just 12 months.
"We heard from our clinician colleagues that many kids were coming in and their magnetic resonance imaging (MRI) suggested a particular type of tumor. But it was always problematic to identify the tumor's molecular subtype," says
Javad Nazarian, Ph.D., MSC
, a principal investigator in Children's
Center for Genetic Medicine Research
. "Our colleagues wanted a more accurate measure than MRI to find the molecular subtype. That raised the question of whether we could actually look at their blood to determine the tumor subtype."
Children's liquid biopsy, which remains at the research phase, starts with a simple blood draw using the same type of needle as is used when people donate blood. When patients with brain tumors provide blood for other laboratory testing, a portion of it is used for the DNA detective work. Just as a criminal leaves behind fingerprints, tumors shed telltale clues in the blood. The Children's team searches for the histone 3.3K27M (H3K27M), a mutation associated with worse clinical outcomes.
"With liquid biopsy, we were able to detect a few copies of tumor DNA that were hiding behind a million copies of healthy DNA," Nazarian says. "The blood draw and liquid biopsy complement the MRI. The MRI gives the brain tumor's ZIP code. Liquid biopsy gives you the demographics within that ZIP code."
Working with collaborators around the nation, Children's National continues to refine the technology to improve its accuracy. The multi-institutional team published findings online Oct. 15, 2018, in
Clinical Cancer Research
.
Even though this research technique is in its infancy, the rapid, cheap and sensitive technology already is being used by people around the globe.
"People around the world are sending blood to us, looking for this particular mutation, H3K27M, " says
Lindsay B. Kilburn, M.D.
, a Children's
neuro-
oncologist
, principal investigator at Children's National for the
Pacific Pediatric Neuro-Oncology Consortium
, and study co-author. "In many countries or centers, children do not have access to teams experienced in taking a biopsy of tumors in the brainstem, they can perform a simple blood draw and have that blood processed and analyzed by us. In only a few days, we can provide important molecular information on the tumor subtype previously only available to patients that had undergone a tumor biopsy."
"With that DNA finding, physicians can make more educated therapeutic decisions, including prescribing medications that could not have been given previously," Nazarian adds.
The
STAT Madness
round of 64 brackets opens March 4, and the championship round voting concludes April 5 at 5 p.m. (EST).
In addition to Nazarian and Dr. Kilburn, study co-authors include Eshini Panditharatna,
Madhuri Kambhampati, M.S.,
Heather Gordish-Dressman, Ph.D.
, Suresh N. Magge, M.D.,
John S. Myseros, M.D.
,
Eugene I. Hwang, M.D.
and
Roger J. Packer, M.D.
, all of Children's National; Mariam S. Aboian, Nalin Gupta, Soonmee Cha, Michael Prados and Co-Senior Author Sabine Mueller, all of University of California, San Francisco; Cassie Kline, UCSF Benioff Children's Hospital; John R. Crawford, UC San Diego; Katherine E. Warren, National Cancer Institute; Winnie S. Liang and Michael E. Berens, Translational Genomics Research Institute; and Adam C. Resnick, Children's Hospital of Philadelphia.
Financial support for the research described in the report was provided by the V Foundation for Cancer Research, Goldwin Foundation, Pediatric Brain Tumor Foundation, Smashing Walnuts Foundation, The Gabriella Miller Kids First Data Resource Center, Zickler Family Foundation, Clinical and Translational Science Institute at Children's National under award 5UL1TR001876-03, Piedmont Community Foundation, Musella Foundation for Brain Tumor Research, Matthew Larson Foundation, The Lilabean Foundation for Pediatric Brain Cancer Research, The Childhood Brain Tumor Foundation, the National Institutes of Health and American Society of Neuroradiology.
Media contact:
Diedtra Henderson
| 443-610-9826 | 202-476-4500
About Children's National Health System