New Videos in Five Languages Teach Parents about Newborn Screening for Heart Defects
Washington, DC—Children's National Medical Center, through support from Baby's First Test, has created videos in five languages to help new and expectant parents learn the importance of screening newborns for potentially critical heart disease. The Heart Smart series is available online—now in Arabic, Chinese, French, Russian, and Spanish, as well as English—at Children's National and Baby's First Test.

These short educational videos describe newborn screening for critical congenital heart disease (CCHD) using pulse oximetry (pulse ox), emphasize the importance of screening all newborns with this simple test, and inform families of warning signs for heart problems in newborns.

To improve provider and family education surrounding CCHD screening, the Congenital Heart Disease Screening Program at Children's National partnered previously with Baby's First Test, a project of the nonprofit Genetic Alliance, to create two videos about CCHD screening with pulse ox. Children's National then received a 2013 Challenge Award from Baby's First Test to fund the translation of its Heart Smart video for parents into additional languages.

"While working with clinicians continues to be a vital component to our program at Children's National, helping to educate as many new and expecting parents about congenital heart disease is equally as important," stated Gerard Martin, MD, Senior Vice President of the Center for Heart, Lung, and Kidney Disease at Children's National. "If we can help answer questions, ease potential fears, and empower as many parents as possible with knowledge about congenital heart disease and CCHD screening we consider that a success."

Baby's First Test created the Challenge Award program to address gaps in education and improve the newborn screening process at the community and national level. This year's selected projects aim to target a broader cross-section of the population through various media.

"We are pleased to support the expansion of the Heart Smart videos into multiple languages, to reach more parents about this simple, life-saving test," said Natasha Bonhomme, Director of Baby's First Test and Vice President at Genetic Alliance. "CCHD screening is an important addition to newborn screening and as more states adopt this practice, the more important it is that we educate families of various backgrounds."

"Since congenital heart disease is the most common birth defect, screening all babies for it at around 24 hours of age may save many lives and improve outcomes," said Elizabeth Bradshaw Mikula, MSN, RN, CPN. "Routine CCHD screening using pulse ox is a painless, non-invasive way to help ensure a healthy start for all newborns."

Children's National has been a leader in research and advocacy for screening newborns for CCHD. While pulse ox is now a part of the recommended uniform screening panel for newborns supported by the U.S. Department of Health and Human Services, American Academy of Pediatrics and others, the Congenital Heart Disease Screening Program is currently offered at just a few birthing hospitals and centers in the world.
Contact: Paula Darte or Emily Hartman, 202-476-4500.

About Baby's First Test
Baby's First Test is the nation's educational resource center for newborn screening. It informs and empowers families and healthcare providers throughout the newborn screening experience. By increasing awareness, Baby's First Test offers millions of newborns and their families a chance at a healthy start. The newborn screening clearinghouse, housed on Baby's First Test, is funded in part by a grant to Genetic Alliance from the Health Resource and Service Administration (HRSA), Grant no. U36MC16509, Quality Assessment of the Newborn Screening System. To learn more visit http://www.BabysFirstTest.org and follow us on Facebook, Twitter, and Pinterest.
Related Departments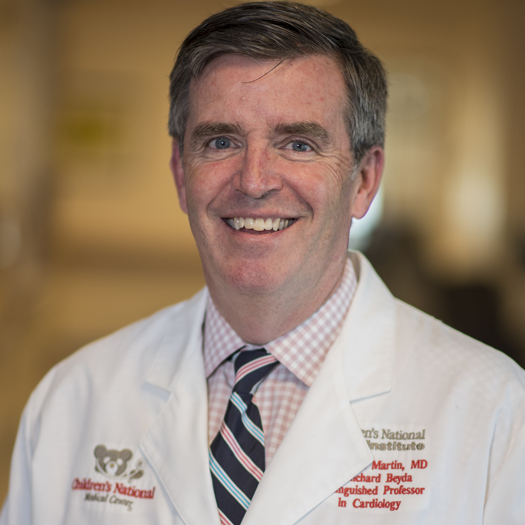 Gerard R. Martin, MD
Cardiac Ambassador to Global Services
Cardiologist
Gerard R. Martin, MD
Locations
Departments