Gerard R. Martin, MD, Co-Authors Letter in Lancet Urging Congenital Heart Defect Screening in Europe
Washington, DC—Gerard Martin, MD, Senior Vice President of the Center for Heart, Lung and Kidney Disease at Children's National Medical Center, is the senior author of a letter published in The Lancet urging implementation of routine critical congenital heart defect (CCHD) screening for newborns across Europe. The Lancet, based in London, is one of the world's leading medical journals and covers all aspects of clinical medicine, and international health.

Some babies with serious congenital heart disease appear healthy at birth, with serious complications occurring after they go home, leading to considerable risk to the baby's life, growth, and development.

CCHD screening with pulse oximetry, a painless non-invasive test, was added to the U.S. recommended uniform screening panel in 2011. Yet, the authors note, "Although data from European studies were used to formulate the U.S. guidelines, no European country has a formal policy on CCHD screening."

The authors reported on a high-level June 2013 meeting of an international group of neonatologists and cardiologists to discuss strategies to develop Europe-wide recommendations for routine CCHD screening. The group identified barriers to European implementation and agreed on the proven benefits of routine newborn screening with pulse oximetry.

"The consensus was clear, that no newborn with unexplained, persistent low blood-oxygen levels should be discharged to go home," said Dr. Martin, a leader behind US implementation of routine CCHD screening. "Pulse oximetry has been proven, in international studies and implementation, to be a cost-effective test that prevents potentially life-threatening congenital heart defects from going undetected."

In their letter, the authors recommend next steps toward encouraging European countries to formally implement routine CCHD screening. As noted in the letter: "We encourage pilot studies in individual countries with support and guidance from national professional bodies, and urge European societies to formulate policy statements, leading to the implementation of CCHD screening with pulse oximetry across Europe."

The Pulse Ox Congenital Heart Disease Screening at Children's National, under Dr. Martin's leadership, has been at the forefront of advocating the use of CCHD screening as a standard of care for newborns.

Contact: Emily Hartman or Paula Darte, 202-476-4500.
Related Departments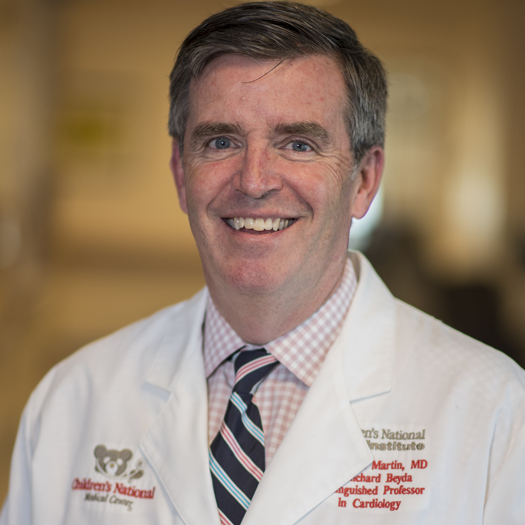 Gerard R. Martin, MD
Cardiac Ambassador to Global Services
Cardiologist
Gerard R. Martin, MD
Locations
Departments