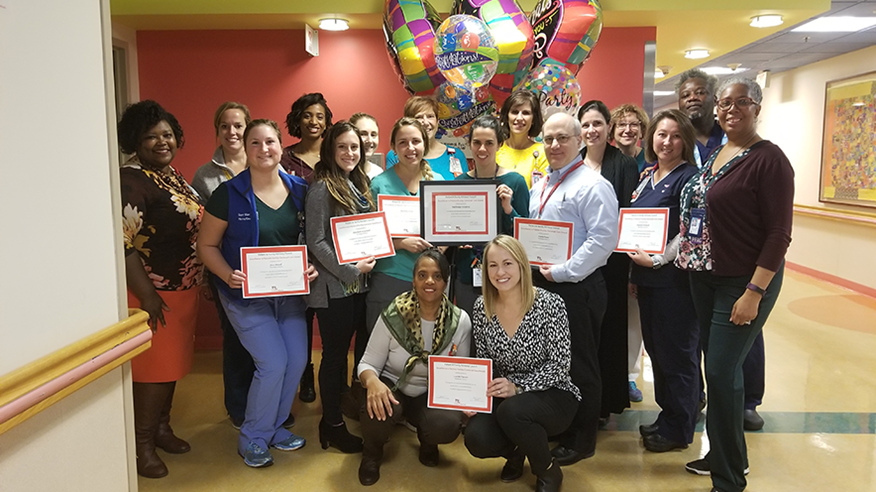 The Patient and Family Advisory Council awards an individual, department or inpatient or outpatient team at Children's National with its Excellence in Patient-Family Centered Care Award each year. The award recognizes and honors individuals, medical units or teams who have demonstrated an outstanding commitment to delivering patient-family centered care.
2019 Winner: Red Badge Initiative
The 2019 Patient and Family Advisory Council (PFAC) award winners are a representation of how Children's National staff from all departments can work together to put patient safety first.
In January 2016, employees from a wide variety of teams developed a new policy for oncology patients and those undergoing bone marrow transplants who frequent Children's National Hospital. When these patients develop a fever, it is essential for medical staff to administer antibiotics within the first hour of triage to prevent overwhelming infections. Because oncology and bone marrow transplant patients' immune systems are compromised, this specific set of patients run the risk of additional infections when waiting in the Emergency Department (ED), but there is also the additional pressure of bypassing the waiting room.
"Parents on PFAC were sharing their experiences in the ED," says Rosemary "Rose" Szeles, MS, RN, NE-BC, director of nursing for the Center for Cancer and Blood Disorders. "Before the Red Badge Initiative, parents were worried about having their children contracting additional infections while waiting for antibiotics, but they also did not want to cause a disruption by appearing to cut the line in the triage process."
In response to these stories, the Oncology department reached out to ED leadership and formed a multidisciplinary team from registration, security, the referral intake center, emergency communications, language services as well as nurses and doctors from the ED to develop a solution.
The Red Badge Initiative process was comprehensive groundwork for all parties involved. Team members and parents of oncology and bone marrow transplant patients are educated about the importance of administering antibiotics within 60 minutes upon arrival to the hospital to avoid additional contagions. During oncology clinic visits, patients' families are taught about when to call, who to call and what they should do to get the patient to the ED as soon as possible. To prepare the support teams who administer drugs, antibiotics are pre-ordered and at the ready for Red Badge patients. When the patients arrive at Children's, they are escorted into a room in the ED and bypass the waiting room.
"The Red Badge," Rose says, "serves as a visual queue for all staff to immediately know the patents' needs. We created a separate area for Red Badge patients so there is no tension between other visitors."
The Red Badge Initiative is a shining example of what can be accomplished when staff listen and constructively respond to patients and families' concerns and frustrations. The multidisciplinary team that came together to provide the best care possible for these patients exemplifies the importance of following Children's commitment to our core values of Compassion, Commitment and Connection.
Congratulations to the Red Badge Initiative for being selected as the 2019 PFAC Award recipient!