Vaccine-immunotherapy Combination Shows Promise in Treating Neuroblastoma
Research study shows new, personalized therapy could treat and prevent recurrence of neuroblastoma in children
Research conducted at Children's National Health System published recently in PLOS Medicine demonstrates the first signs of success in treating high-risk neuroblastoma recurrent tumors through a new approach in mouse models. The study, led by Anthony Sandler, M.D., senior vice president and surgeon-in-chief of the Joseph E. Robert, Jr., Center for Surgical Care at Children's National, employs a treatment method which combines a novel personalized vaccine and a drug that targets a receptor, called PD-L1. Drugs targeting PD-L1 are also known as checkpoint inhibitors and help the immune system identify and kill cancer cells.
Neuroblastoma is the most common solid tumor found in children but continues to carry a poor prognosis despite multiple modes of therapy, and it is notorious for recurring without a long-term cure. However, this new combined treatment approach is promising because it takes a "one, two, punch" toward fighting neuroblastoma cells. Dr. Sandler and his team used checkpoint inhibitor therapy with the cancer vaccine to block the binding of checkpoint receptors CTLA4 and PD-L1 that inhibit immunity and allow the cancerous tumor to go undetected by the body's immune system. When these checkpoints are blocked, it can be compared to taking the brakes off the immune system so that the body's T cells can be primed by the vaccine, identify the tumor and start to fight back. The vaccine brings in reinforcements to double down on the attack, helping to eradicate the tumor.
"We're excited by the promise of using immunotherapy paired with a vaccine to help the body use its own immune system to fight off cancer," says Dr. Sandler. "While this research is in the early stages, we are very encouraged by the results and believe these findings will help move the field forward."
The vaccine could also be used as a way to prevent recurrence of disease after a patient has undergone treatment. After a patient has received treatment for neuroblastoma with the vaccine, the T cells would live in the body, remembering the tumor cells, and attack reemerging cancer in a similar way that a flu vaccine helps fight off the flu virus.
"This is an extraordinary time in the immunotherapy field, and we hope to one day not only treat and prevent the recurrence of neuroblastoma in children, but also expand this combination vaccine therapy to fight other solid tumors as well," says Dr. Sandler.
Dr. Sandler's research was supported by The EVAN Foundation, The Catherine Elizabeth Blair Memorial Foundation and the Sheikh Zayed Institute for Pediatric Surgical Innovation.
Media Contact: Rebecca Porterfield Siddon | 301-244-6737 | 202-476-4500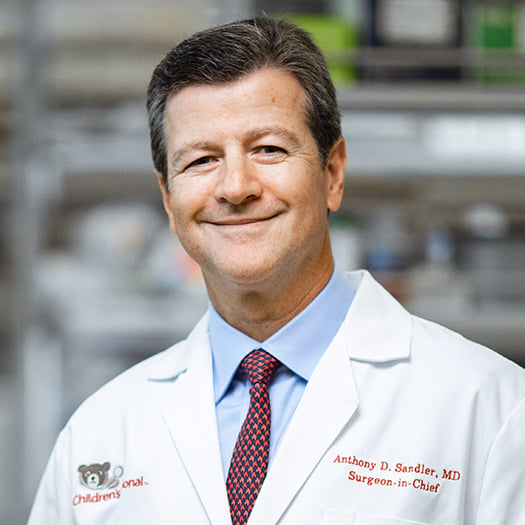 Anthony David Sandler, MD
Senior Vice President and Surgeon-in-Chief Joseph E. Robert Jr., Center for Surgical Care
Anthony David Sandler, MD
Locations
Departments