Meet Kenneth Rosenbaum, M.D.
Medical Geneticist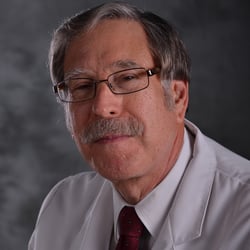 Kenneth Rosenbaum, M.D., is a medical geneticist who has been a member of our Children's National Hospital community since 1971. Over the course of his remarkable 49 years here at Children's National, Dr. Rosenbaum has worked with numerous patients and families, served as a key member of programs such as the Down Syndrome Clinic and Gilbert Family Neurofibromatosis Institute and founded the Department of Genetics and what has now become the Prenatal Pediatrics Institute.
Dr. Rosenbaum hails from New Jersey and completed both his undergraduate and medical school education in Kentucky as part of a seven-year combined program. He credits the less-structured atmosphere of medical schools in the 1960s and 70s for allowing him to pursue his interests freely. Under the mentorship of the head of the Child Evaluation Center in Louisville, he began exploring genetics as a medical school sophomore. "It was interesting and exciting," he recalls, "I knew pretty quickly, even in early medical school, that it was what I wanted to do."
While he had gained significant exposure by graduation, the field of genetics was, in many ways, still in its infancy at that point. "We didn't know much about genes, we didn't have testing, we kind of knew what we saw, but we didn't understand all of it," he says of the time period. When it came time to pursue a residency in pediatrics, Dr. Rosenbaum knew his first choice was Children's National. "There was something about the fabric of the institution that was kind of special," he says. "I think that's what brought me to Children's in the beginning and has kept me here all these years."
In 1974, during the Vietnam era, Dr. Rosenbaum had his residency deferred and was stationed at Andrews Air Force Base, which allowed him to continue to practice genetics locally. From there, he completed his fellowship in pediatric genetics at Johns Hopkins and started the Department of Genetics in 1977. Even then, Dr. Rosenbaum foresaw the ubiquity genetics would achieve as a field in the coming years. He recalls having conversations on the topic with then-Director of Children's National, Robert H. Parrott. "I used to sit in his office," he recalls, "and I would say, 'Dr. Parrott, you have to get ready for eventually having 35 departments of genetics,' one for each of the hospital's 35 divisions." Dr. Rosenbaum's prediction bore out. "It's been exciting to see the explosion in the field," he says.
Dr. Rosenbaum went on to spearhead numerous programs that are now stalwart institutions here at Children's National; the Center for Prenatal Diagnosis he helped found in 1979 has developed into the present-day Prenatal Pediatrics Institute. He is also co-director of the Down Syndrome Clinic, which serves many children of all ages and is part of the Gilbert Family Neurofibromatosis Institute, one of the world's largest and the nation's longest standing neurofibromatosis programs.
Over the course of his career, Dr. Rosenbaum has seen children with a wide range of genetic conditions. For many years, he would visit two to three area hospitals a day, seeing any baby born with a presumed genetic condition shortly after birth. While he does not do that as much anymore, Dr. Rosenbaum still finds working with patients and their families to be the most rewarding aspect of his job. "To have the opportunity to see families at often very difficult times in their lives, give them accurate information, point them in the right direction, to help them to understand that we will be there for them the whole time," he says, are some of the most important parts of his job. "Families have incredible resilience and strength," says Dr. Rosenbaum, "and I think many of us kind of draw on that, that's what allows many of us to get through the day since we are dealing with difficult things all day long."
Looking back on the almost half-century he has spent as part of Children's National, Dr. Rosenbaum is filled with gratitude and a renewed commitment to service. "I feel very fortunate to have had the opportunity to work with so many wonderful people, faculty members, nursing staff and administrative staff," he says. "It requires everybody working at their best to have the place work the way it does…each of us is a very important part of the Children's family, and I think that's the key."
Thank you, Dr. Rosenbaum, for the decades of extraordinary contributions you have made as part of our Children's National community!