Through clinical trials, our team expands our research and continues to advance techniques in fetal brain imaging.
We are looking for women with healthy and high-risk pregnancies to participate in our research studies. By doing so, you and your child will be able to positively impact the health and development of babies around the world.
Preventing Brain Development Problems: Our Work
Some babies are born with developmental problems in the brain and heart. Although many of these problems can be identified in fetuses (unborn babies), conventional imaging technologies often do not detect these anomalies early enough.
In our Developing Brain Institute, Director Catherine Limperopoulos, Ph.D., leads a research team in developing innovative, noninvasive imaging techniques. These techniques allow physicians to:
Find abnormal fetal development in the heart and brain very early in pregnancy
Effectively treat these problems before birth to help babies have a healthy start
Clinical Trials for Pregnant Women at Children's National Hospital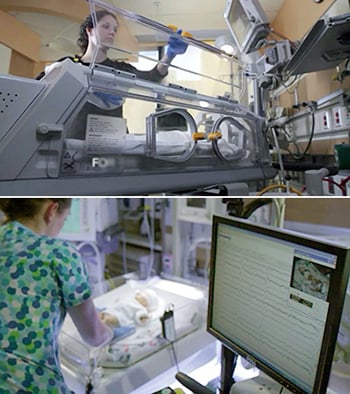 Dr. Limperopoulos and her team are leading several clinical trials that support their research of early detection and treatment of fetal developmental problems.
Our studies involve the use of fetal magnetic resonance imaging (MRI). MRI is a technique that uses a magnetic field and radio waves to take detailed images of the inside of the body. MRI is considered harmless because it does not involve exposure to radiation, which can be a concern with X-rays.
Fetal MRI is used to take pictures of the developing baby during pregnancy. Presently, there is no evidence that there is any harm from MRI procedures to unborn babies.
We are actively recruiting participants for these clinical trials:
Join a Trial
If you'd like to learn more about our clinical trials and how you can collaborate with us or participate in one of our clinical trials, please contact our research team:
Email us
Benefits
Benefits to participants in our clinical trials include:
Free parking during your visits to Children's National
$75 after each visit in gratitude for your participation in our study
MRI images of your baby
Clinical Trials
Antecedents of Impaired Brain Development in Fetuses with Congenital Heart Disease