Fine Tuning How to Train Kids Developing Immune Systems to Prevent Wheezing Early in Life
While few children now grow up in rural areas, an innovative study aims to mimic those rustic experiences to prevent kids from developing early-life wheezing
WASHINGTON – (June 22, 2016) – For the small number of U.S. children who grow up on working farms, activities such as feeding the cows and clearing spent hay from the barn are little changed from a thousand years ago. Through such close contact with dirt and farm animals, rural kids' immune systems develop more normally and better distinguish common bacteria from household allergens like dust, molds, pets, and pests. Rates of allergy and asthma continue to be lower in children who grow up in those conditions.
By contrast, rates of asthma have spiked among urban and disadvantaged kids, who have far less exposure to dirt and animals early in life. Today, leading pediatric institutions, such as Children's National Health System, are "awash in emergency department (ED) visits for asthma" with each ED visit associated with 10 to 15 missed school days annually on a population basis, says Stephen J. Teach, MD, MPH, Director and Principal Investigator of IMPACT DC, a care, research, and advocacy program focused on under-resourced and largely minority children with asthma.
A paradigm-shifting multicenter clinical trial aims to reverse that trend by going old school and safely exposing very young infants to the type of immune system training they would have experienced if they grew up closer to the earth.
- Tweet this: Dr. Stephen Teach: We've got to do something to change the course of #pediatric #asthma to make it less common and less severe. @cn_innovation
- Tweet this: The rationale for exposure to bacteria early in life is that intervention could help to strengthen kids' immune systems, says Dr. Teach. @cn_innovation
The five-year study, named "Oral Bacterial Extracts (ORBEX): Primary Prevention of Asthma and Wheezing in Children," is funded by a $27 million cooperative agreement grant from the National Heart, Lung, and Blood Institute, which is part of the National Institutes of Health. Children's National, one of eight participating sites across the nation, will enroll an estimated 150 children in the study and will receive at least $2.5 million of that grant.
"It is currently thought by many, including me, that asthma and allergic diseases are a result of disordered development of the immune system very early in life," says Dr. Teach, who is also Chair of the Department of Pediatrics at George Washington University. The immune system development process begins to unfold in the last few months of pregnancy and continues through infancy, meaning "the die is cast, we think, at a very young age."
According to the Centers for Disease Control and Prevention, 8.6 percent of children across the nation have asthma, but in the District of Columbia, a disproportionately higher number of children suffer from the respiratory ailment. Once children experience early wheezing, changes begin to occur in the architecture of their lungs, causing a thicker basement membrane, a thickening of the lining of the lungs, and resulting in a heightened tendency for the airways in the lungs to become inflamed and to excrete more mucous. As a result, the children's poorly trained immune system becomes hyper vigilant, ready to recognize a multitude of things as potentially allergenic.
"We've got to do something to change the course of the disease and to make it less common and less severe," Dr. Teach says.
The study will identify 1,000 babies who range in age from 6 months to 18 months who are the highest risk for asthma, either through family history, being diagnosed with eczema, or both. The infants will receive safe doses of the inactivated bacteria, which is marketed under the name Broncho-Vaxom®. The therapy comes in capsule form, which for two years will be sprinkled into bottles or onto food. The children will be followed to gauge whether infants randomly assigned to receive treatment suffer fewer respiratory symptoms than infants randomly assigned to receive placebo.
"The rationale if we can expose these very young children to the benefits, but not the risks, of early life bacterial exposure, they may reap the benefits of developing a more properly functioning and less allergic immune system," Dr. Teach says.
He says the Children's National research team has had "remarkable success" engaging young children and their parents in such long-term studies, losing few to attrition.
"Going for five years will be breaking new ground. But all of our experience suggests that we will succeed if we show the families we care, we stay in touch with them, and we form these therapeutic partnerships by saying: 'We want to partner with you. We can do this safely with mutual benefit.' Families will get on board," he says.
Related resources: Learn more about the clinical trial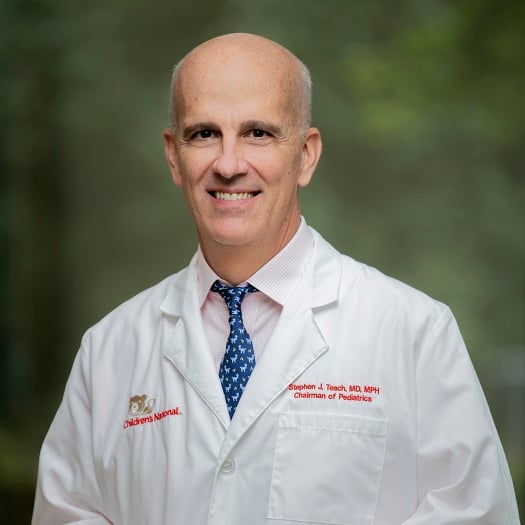 Stephen J. Teach, MD,MPH
Chair, Department of Pediatrics
Associate Dean, Pediatric Faculty Affairs
Stephen J. Teach, MD,MPH
Locations
Departments