Children's National Researcher Continues to Improve Understanding of Pediatric Brain Cancer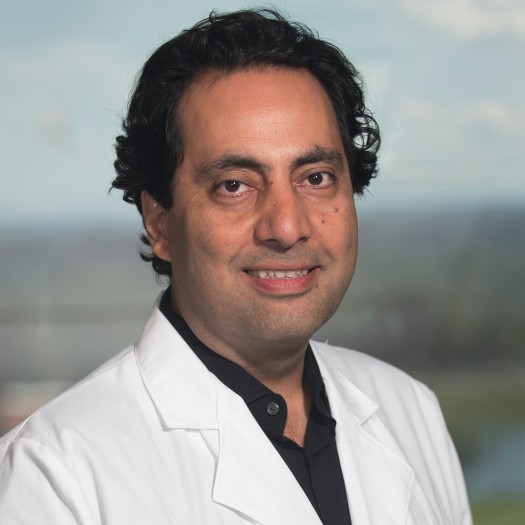 Washington, DC – Javad Nazarian, PhD, a cancer researcher with Children's Research Institute (CRI) at Children's National Health System, was the recent recipient of a $100,000 grant from the Smashing Walnuts Foundation to study pediatric diffuse intrinsic pontine glioma (DIPG).
DIPG is an aggressive and incurable tumor of the brainstem, and the same type of cancer that Smashing Walnuts founder Gabriella Miller was diagnosed with at age 9. Gabriella's tumor was the size of a walnut, and her family began smashing walnuts with a frying pan to signify smashing her cancer. This eventually led to the creation of the Smashing Walnuts Foundation. Upon Gabriella's passing, the Miller family generously donated her brain to Dr. Nazarian's laboratory, a leading DIPG research team at the Children's Research Institute.
In a press conference for the grant presentation, Dr. Nazarian said, "we want to know why and how this tumor spreads throughout the brain and…what is the molecular function that makes it so lethal and so different from other types of tumors including adult brain tumors. These are incremental steps that we're hoping will shed light on these tumors and other pediatric brain tumors."
With this grant, Dr. Nazarian and his team will study molecular events contributing to the infiltrative nature of DIPGs, or the extension of DIPGs into other parts of the brain. Such tumor expansion may not be detectable by magnetic resonance imaging scan (MRI) or even by rarely obtained biopsies. Thus, characterizing tumor expansion in DIPGs may provide new therapeutic avenues.
In fact, DIPGs are inoperable, making tumor donations an important step forward in research. Dr. Nazarian credits families such as the Miller family for helping to advance pediatric DIPG research in recent years, calling it a union between families, researchers, and children.
"For 30 years, nothing changed for DIPGs. The only reason behind recent advancements is that children donate the precious gift of their tumor, and their families provide support for research and raise awareness of DIPG," says Dr. Nazarian.
Thanks to these donations, Dr. Nazarian and his CRI team are now able to study molecular components of tumor extension in several autopsied DIPG tumors. CRI maintains a bio-bank specifically for studying pediatric brain tumors with support from the Musella Foundation for Brain Tumor Research and Information.
Dr. Nazarian hopes the data his group gathers from the specimen can lead the way toward clinical use. He says, "We need to go from bench to bedside. Once we understand tumor biology and target pathways in cell culture and in vivo, we can work with oncologists to explore avenues for translating these biological findings."
Prior to her passing in October 2013, Gabriella Miller became a well-known champion for childhood cancer research and awareness. She is the namesake of the Gabriella Miller Kids First Research Act (H.R. 2019) signed into federal law by President Obama on April 3, 2014. Over the next ten years, the act authorizes redirecting $12.6 million per year in funds from political conventions to the National Institutes of Health (NIH) for funding of important pediatric research initiatives.
Dr. Nazarian says NIH funding for pediatric brain tumors is currently low but that the Gabriella Miller Kids First Research Act will go a long way to ensure more money goes toward pediatric research including childhood brain cancer research.
Contact: Caitlyn Camacho at 202-476-4500.
###