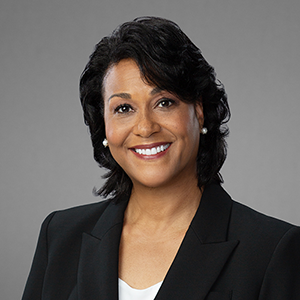 Michelle Riley-Brown, MHA, FACHE
President and CEO
Michelle Riley-Brown, MHA, FACHE
Michelle Riley-Brown, M.H.A., FACHE, is the president and chief executive officer of Children's National Hospital,
ranked #5 in the nation
on the U.S. News & World Report 2023-24 Best Children's Hospitals annual rankings. She joined the organization on July 1, 2023, bringing with her more than two decades of pediatric healthcare expertise and hospital leadership.
At Children's National, Riley-Brown leads a team of over 8,000 dedicated employees who provide exceptional care to families across the D.C. region. This includes overseeing a
323-bed acute care hospital
, the
HSC Health Care System
, along with
primary
and
specialty care
sites. Additionally, she oversees the efforts of the
Children's National Research Institute
(CNRI), including more than 300 faculty and staff. Her team also leads community-focused programs and partnerships, including school health services, mobile health services, safety initiatives, and the
Child Health Advocacy Institute
.
Prior to joining Children's National, she was the president of Texas Children's Hospital West Campus and Texas Children's Hospital The Woodlands, two locations serving children and families across the Houston area. She led the development of these campuses from start to finish, overseeing each step, from the design phase and initial construction to the official openings, ensuring families that quality care was within reach across Texas' largest city.
Additionally, Michelle Riley-Brown oversaw Texas Children's Pediatrics, the largest pediatric primary care network in the country, and Texas Children's Urgent Care, which specializes in after-hours medical care tailored specifically to children. She was also responsible for leading the marketing, public relations, and philanthropy for the Texas Children's Hospital system.
She is a graduate of Tulane University in New Orleans with double majors in Communication and Sociology and earned a Master of Health Administration degree from Washington University School of Medicine in St. Louis, Missouri, before becoming a Fellow in the American College of Healthcare Executives (FACHE). She served on the board of the ACHE-Southeast Texas Chapter for a decade and took on the role of president for one term.In her Houston community, she served on the board of the Girls Scouts of San Jacinto County, the Boy Scouts of America-San Jacinto Council, and the board of the Cynthia Mitchell Woods Pavilion, a world-class performing arts venue.
Michelle Riley-Brown is married and has one daughter.