Meet Charles Fleming, RN, BScN, CPN
Heart Center Nurse Navigator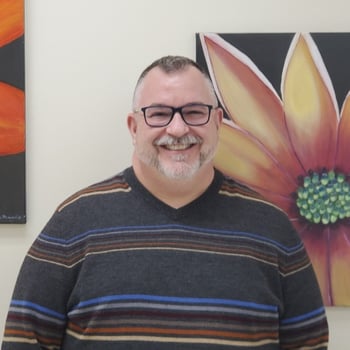 Charles Fleming, RN, BScN, CPN, has been a part of our Children's National community for almost 18 years. For much of his career here, Charles worked in the cardiac catheterization lab. Recently, he has taken on the role of nurse navigator for the Children's National Heart Center, facilitating care for complex and urgent cardiology patients and serving as a single point of contact for referring providers.
When Charles joined the Children's National team in 2003, he was searching specifically for a cardiac catheterization position. "I really wanted to see cardiology from one of the purest diagnostic modalities: cardiac catheterization," he recalls. "I knew that gaining experience in cardiac catheterization would help me better understand the complexities of congenital heart disease." Now, Charles has acquired more than 20 years of pediatric cardiology experience, forming a solid foundation upon which he hopes to build a strong navigator program for the Heart Center.
In his new role as a nurse navigator, Charles aims to streamline the care process for our patients and their families. "I've always had a passion for performance improvement. In my previous role in the cath lab, I had success improving our care processes to make them more efficient for our families. I hope to continue that effort in the role of nurse navigator," he explains. "Specifically, I want to see improvements in the area of keeping families engaged in their care. I believe that one of the ways to do that is by decreasing obstacles to care."
To accomplish this goal, Charles will provide comprehensive care coordination and education to our cardiology patients and their families. This includes helping patients navigate the system by managing appointments, scheduling follow-up appointments, reviewing medications and providing support to families after discharge from cardiology services. Additionally, he will serve as the primary point of contact for referring providers by obtaining and sending documentation and images, as well as assisting with clinical questions.
While Charles' role within the Heart Center has expanded, his primary goal has remained the same throughout his career: to make a difference in the lives of our patients and families.
"It's all about making a difference, small or big. What might seem like a small gesture of kindness may be monumental for our families. It's always been my goal to make our patients' and families' experience the best that it can be," he says. "Anytime I can help facilitate one of our families getting what they need, I feel an intense sense of accomplishment in knowing that I made a difference."
Thank you, Charles, for all that you do to support our patients and families in the Heart Center!