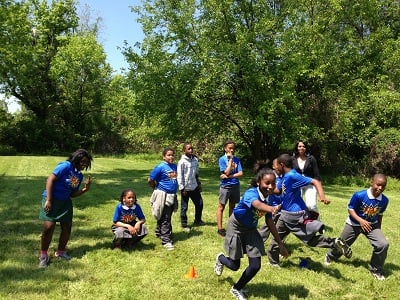 Launch Team Kid POWER in Your Community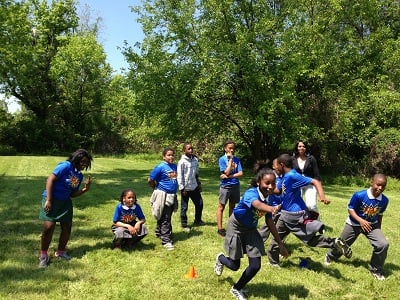 At Team Kid POWER™ (KiPOW!), we are concerned about pediatric obesity undermining the health of our current generation of children. The increasing prevalence of obesity, type 2 diabetes, nonalcoholic fatty liver disease, food allergies and a myriad of autoimmune conditions, mental health problems and many other conditions can be linked to poor nutrition and physical activity.

The prevalence of an ideal healthy diet score for American youth is 0.6%. It is not much better in adults at 1.5%. Although diets are improving in America, the improvement is disproportionately found in persons at socioeconomic advantage. Fewer than one third of children and adolescents meet fitness goals.
These are not problems we can solve in the clinic. These are problems solved where children are living and making daily food and activity choices. Schools are a natural partner.
Help Children Develop Healthy Habits
KiPOW! is a school-based health collaborative of physicians, medical students, public and public charter school faculty and staff, elementary and middle school students and their families – all working together to help school nutrition and exercise policies reach their intended, powerful goals.
If you are interested in starting KiPOW! in your neighborhood, please follow these steps:
Once you have contacted us and started on the path to becoming a KiPOW! chapter, we will provide you with the trademarked logo for your site. You will have access to KiPOW! IRB templates, curriculum materials and parent newsletters. We will ask you to collect standardized outcomes and share your data so that we can all move our evidence base forward to determine the best ways to motivate healthy behavioral change.
Identify your source of renewable volunteers who care about health promotion. Teams can be comprised of medical students, other health professionals, pediatric residents or undergraduates interested in health-related careers.
Order KiPOW! tee shirts.
Apply to your institutional IRB; it should be possible to obtain a consent waiver.
Connect with your local school district and the individual elementary, middle or high schools. Identify target schools and school liaisons who will be your primary point of contact.
Review the school calendar and identify visit dates and times.
Train your volunteer team and have them sign up for the dates and times to participate.
Have fun!