As a nonprofit healthcare organization committed to serving families with complex healthcare needs and eliminating barriers to health services, The HSC Health Care System's mission and services are designed to offer a comprehensive approach to caring, serving and empowering people with disabilities.
The mission of The HSC Health Care System is to provide and coordinate innovative, high quality, community-based care for individuals with complex needs and their families. HSC empowers all we serve to improve the quality of their lives.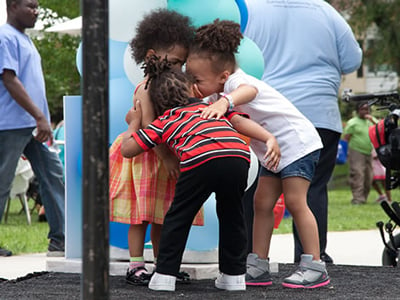 History
The HSC Health Care System began as a small home for children in 1883, now The HSC Pediatric Center.
Over the years, it has expanded to include a health plan, home health agency and a parent foundation to ensure sound fiscal management. Today, The HSC Health Care System plays a central role in providing comprehensive care services to people with complex medical needs and disabilities. We are proud of our history and committed to building a stronger future for the families we serve.
Significant Dates in Our History
1883 The HSC Pediatric Center opens as the Children's Country Home The Children's Country Home admits boys ages 4-10 and girls ages 4-12, taking six children at a time for a 10-14 day stay.
1884 The Children's Country Home expands Charles Glover of Riggs Bank serves as treasurer to raise funds to purchase a larger building. He purchases several acres of land, giving it to the HSC Board in memory of his daughter, who died at the age of 4.
1920s The Children's Country Home serves more children recovering from disease or surgery The Home increasingly responds to the needs of children from infancy to age 14 for treatment of asthma and rheumatic fever.
1928 to 1929 The program expands and purchases land for a more permanent facility As it expands its services, the Children's Country Home purchases a beautiful 6-acre parcel of land at the corner of 18th Street and Bunker Hill Road in Northeast Washington, DC - the current site of The HSC Pediatric Center.
1930 The new building is complete and accepts its first children Ms. Herbert Hoover, the President's wife, lays the cornerstone of the new building, designed and constructed to have a homelike appearance. The facility can serve up to 50 children.
1940s and 1950s Services expand to meet the needs of more children The Home evolves into a chronic medical facility, caring for children with polio, rheumatic fever, cerebral palsy and other congenital conditions.
1950 to 1951 Two additional wings are added to the current site To more accurately reflect the services provided, the name is changed to The Children's Convalescent Home.
1953 The Convalescent Home becomes a member of the American Hospital Association Services grow and the Home takes on the character and services of a hospital.
1968 The hospital changes its name to The Hospital for Sick Children It opens a fully-equipped 80-bed addition to provide services beyond convalescent care.
1980s Progress in medical advances leads to growing patient needs. Patients included premature and low-birth weight infants and children of all ages who need rehabilitative or transitional care.
1984 The HSC Foundation is created To ensure sound fiscal management and to grow philanthropic revenues over time, the HSC board creates the Foundation.
1991 A decade of recognition and expansion begins for the Hospital The Hospital receives a special commendation from the Joint Commission®. President and Mrs. Bush, Secretary of Health and Human Services Louis Sullivan, Surgeon General Antonia Novello and nearly 500 others attend the groundbreaking celebration at the Hospital for Sick Children.
1994 Establishment of a managed care organization To meet the continuum of care needs for children with disabilities, Health Services for Children with Special Needs, Inc. (HSCSN) is incorporated to develop a national model of managed care services for children and youth.
1996 HSCSN enrolls its first member To be eligible for enrollment, children and young adults must be under 26 years of age, live in the District, and receive Supplemental Security Income (SSI) benefits.
2004 The Hospital for Sick Children becomes The HSC Pediatric Center The new name maintains the tradition by keeping the HSC initials, but the mission remains the same.
2009 HSC Home Care, LLC is formed The third HSC System subsidiary provides home care services and one-on-one caregiver training to infants, children and young adults in their own homes.
2011 The HSC Foundation establishes the National Youth Transitions Center The Center is a collaborative learning community to benefit young people with disabilities as they transition from adolescence to adulthood and from school to work.
2013 HSC broadens, creating three new services The new HSC Health & Residential Services provides care services to people of all ages in the home and in residential settings. Children and young people with disabilities can now receive family-centered therapy and equipment support through The HSC Outpatient Center. The Life Skills Center opens to provide behavioral health services.
2014 HSC Hosts First Adaptive Adventure Day More than 60 kids in the Washington, DC area participate in cycling, kayaking, bocce ball and volleyball, as part of a program created by The HSC Health Care System and Disabled Sports USA to introduce children and young adults with disabilities to a variety of adaptive sports.
2015 A continued commitment to community care HSC's community based services continue to grow, with 42,000 home care visits and more than 10,000 outpatient visits.
2019 The joining of Children's National and HSC Health Care System Children's National and The HSC Health Care System (HSC)received regulatory approval for an integration that will provide seamless care for children and young adults with complex medical needs in Washington, D.C., and across the region.