Children's National One of Only Four Pediatric Hospitals Ranked in Top 20 in 10 Specialties, U.S. News & World Report Best Children's Hospitals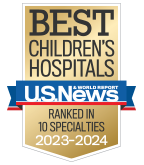 Children's National Health System has again been named to the prestigious U.S. News & World Report Best Children's Hospitals list. Unique to the 2016-17 rankings, Children's National is one of only four pediatric hospitals in the country to have been ranked in the top 20 in every one of the 10 specialty areas rated by U.S. News & World Report. Children's National also is the only pediatric hospital in the entire region of Maryland, DC, and Virginia to earn this distinction.
The U.S. News Best Children's Hospitals rankings highlight the top 50 U.S. hospitals in each of these pediatric specialties: cancer, cardiology and heart surgery, diabetes and endocrinology, gastroenterology and GI surgery, neonatology, nephrology, neurology and neurosurgery, orthopaedics, pulmonology, and urology. Children's National ranked among the top 10 in three specialties: neonatology (#3), neurology/neurosurgery (#8), and orthopaedics (#9).
"This distinction recognizes the excellence at Children's National in our care, quality, and outcomes across every specialty program and affirms our role as the premier provider for children's health care in our region. Importantly it is also a reflection of the skill and purpose of our staff, physicians, partners and supporters who commit each day to help kids in our communities grow up stronger," said Kurt Newman, MD, President and CEO of Children's National.
In addition to being in the top 20 in all 10 specialty areas, Children's National is a pediatric health system dedicated to improving the lives of all children through innovative research, high quality healthcare, and advocacy on behalf of children's needs. Children's National is a Leapfrog Group Top Hospital, acknowledged for its high quality and safety measures, and a Magnet® designated hospital, recognized for nursing excellence by the American Nurses Credentialing Center.
"The Best Children's Hospitals highlight pediatric centers that offer exceptional care for the kids who need the most help," said U.S. News Health Rankings Editor Avery Comarow. "Day in and day out, they deliver state-of-the-art medical care."
The U.S. News Best Children's Hospitals rankings rely on clinical data and on an annual survey of pediatric specialists. Survival rates, adequacy of nurse staffing, procedure volume and much more can be viewed on http://health.usnews.com/best-hospitals/pediatric-rankings. The rankings will be published in the U.S. News "Best Hospitals 2017" guidebook, available for pre-sale August 1.
For more information, visit Best Children's Hospitals and use #BestHospitals on Facebook and Twitter.
Contact: Emily Hartman at 202-476-4500.