Children's National Nurses Honored with Washingtonian Magazine Excellence in Nursing Awards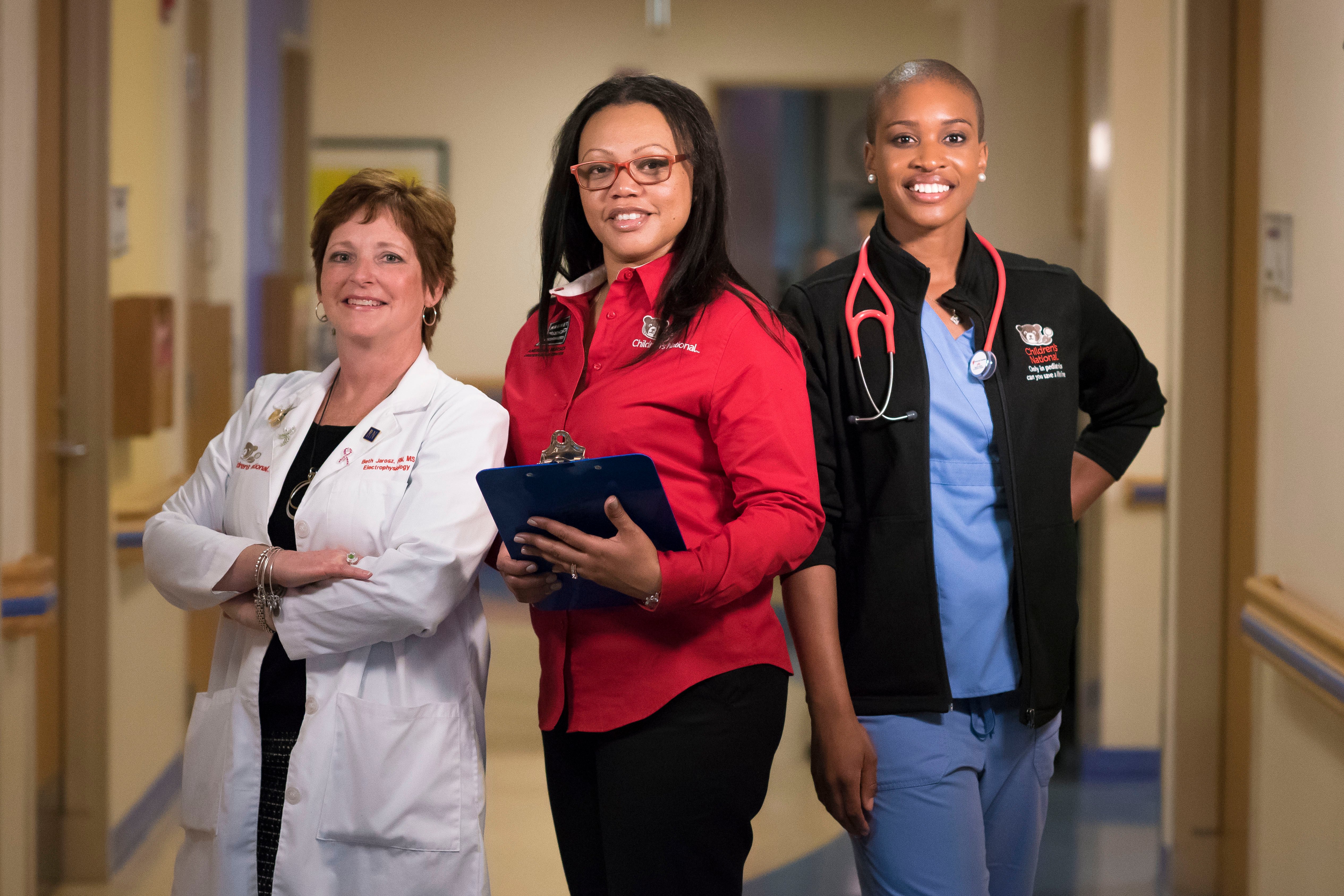 Washington, DC – Three Children's National Health System nurses received Washingtonian Magazine Excellence in Nursing Awards last night at a reception held to honor more than 30 finalists from across the greater Washington, DC, area. These awards recognize and celebrate local nurses who go above and beyond the call of duty.
"We are proud of the nurses that have been recognized for this prestigious award. They exemplify nursing excellence through their expertise and dedication to patient care," said Linda Talley, MS, RN, NE-BC, Vice President and Chief Nursing Officer at Children's National.
The three winners are Elizabeth (Beth) Jarosz, MS, RN, an Electrophysiology Nurse Clinician, Teresa Graves, MSN, RN, a Nurse Manager for the Primary Care Clinics, and Modupeola Olutosin (Tosin) Oluwole, BSN, RN, CPN, an Acute Care Float Pool nurse.
"These three nurses exemplify Children's mission and vision, and consistently embody our child-centered care and focus on community impact that are at the core of Children's National," Talley said.
Beth Jarosz won an Excellence in Nursing Award in the Community Outreach category this year. She has been at Children's National for 26 years and has worked in many different areas of the hospital including the Neonatal Intensive Care Unit (NICU) and Cardiology. Jarosz has proven her expertise and passion for supporting the child-and patient-focused culture that exists in nursing and throughout the entire hospital. She also dedicates time to working with children in the community through her leadership in Camp Heartbeat, a summer camp for children with heart conditions.
Teresa Graves won an award this year in the Community Nursing category. Teresa began her career at Children's National as a Student Nurse Child Care Technician, and, after 17 years, is now a Nurse Manager for the primary care clinics. Graves's primary care clinics serve the District of Columbia's most vulnerable children in the Southeast and Northwest neighborhoods. She is a major supporter of immunizations, and her clinics are the largest immunizers of children in the District. This important work helps ensure children stay healthy so they can have successful futures.
Tosin Oluwole won in the Mothers and Children category this year. She has been an Acute Care Float Pool Nurse at Children's National for almost three years. As a float pool nurse, Oluwole works across many different areas of the hospital and helps care for children with a diverse spectrum of illnesses. She spent a lot of time in hospitals growing up, which inspired her to become a nurse so she could care for children the way her nurses cared for her. In addition to caring for patients, Oluwole volunteers with Divine Concept, a group dedicated to working with juvenile delinquents and helping them plan for their futures.
Children's National has an award-winning nursing staff and is one of an elite group of hospitals to have achieved Magnet® designation, a nationally-recognized distinction from the American Nurses Credentialing Center achieved by only seven percent of hospitals.
For more information about the awards, visit the Washingtonian Magazine website.
Contact: Lauren Lytle at 202-476-4500