We're Ranked "Best of the Best" by U.S. News & World Report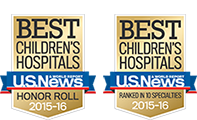 Washington, DC— Children's National Health System has been named to the prestigious Honor Roll of the U.S. News & World Report 2015-16 Best Children's Hospitals, ranking among the top 10 pediatric hospitals in the nation. The Honor Roll features the "best of the best" hospitals for kids in the country. Additionally, Children's National is the only pediatric hospital in the entire region of Maryland, DC, and Virginia to earn Honor Roll designation.
Children's National was ranked in all 10 specialties for the fifth year in a row, and three--Neonatology, Neurology/Neurosurgery, and Gastroenterology/GI Surgery-- were ranked among the top 10 programs in the country. All 10 specialties ranked in the top 25 nationally.
The U.S.News & World Report Best Children's Hospitals rankings highlight the top 50 U.S. hospitals in each of these pediatric specialties: cancer, cardiology and heart surgery, diabetes and endocrinology, gastroenterology and GI surgery, neonatology, nephrology, neurology and neurosurgery, orthopaedics, pulmonology, and urology.
"We are extremely proud to be named to the Honor Roll and to rank among the top 10 best pediatric hospitals in the nation," said Kurt Newman, MD, President and CEO of Children's National. "This prestigious recognition of our excellence, quality, and outcomes is a reflection of hard work and dedication across the Children's National community. We are grateful to the staff, physicians, partners and supporters who share our commitment to doing what is right for children."
In addition to being recognized in these 10 specialty areas, Children's National is a pediatric health system that is dedicated to improving the lives of children through innovative research, primary care, and advocating on behalf of children's needs. Children's National marries cutting-edge research to high-quality care within the same facility; it is ranked sixth among pediatric hospitals in receiving National Institutes of Health funding for pediatric research. Children's also is a Magnet® designated hospital, recognized for nursing excellence by the American Nurses Credentialing Center.
"The pediatric centers on the Best Children's Hospitals Honor Roll show exceptional dedication and expertise, and they deserve our congratulations," said U.S. News Health Rankings Editor Avery Comarow. "Children with life-threatening or rare conditions need the kind of care that these hospitals deliver day after day."
U.S. News introduced the Best Children's Hospitals rankings in 2007 to help families of sick children find the best medical care available. The rankings offer families an exclusive look at quality-related information at the individual hospital level.
Most of each hospital's score relied on patient outcomes and care-related resources. U.S. News garnered clinical data from a detailed questionnaire sent to 184 pediatric hospitals. A sixth of the score came from annual surveys of pediatric specialists and subspecialists in each specialty in 2013, 2014 and 2015. They were asked where they would send the sickest children in their specialty, setting aside considerations of location and expense.
For complete details about the rankings, visit the U.S. News and World Report website or pick up a copy of the print edition in August.
Contact: Emily Hartman or Caitlyn Camacho at 202-476-4500.