Ryan Seacrest Foundation Opens Multimedia Broadcast Studio at Children's National Health System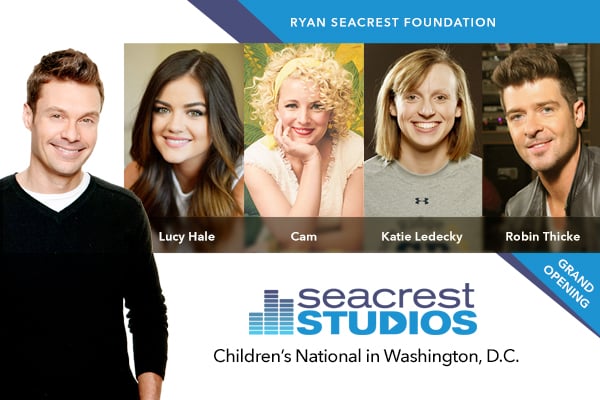 Washington, DC – Children's National Health System, in partnership with the Ryan Seacrest Foundation (RSF), has opened a new state-of-the-art, 920 sq. ft. multimedia broadcast studio, named Seacrest Studios. The studio is located inside the Children's National Main Atrium at the Sheikh Zayed Campus for Advanced Children's Medicine. A special unveiling ceremony took place at Children's National today, hosted by Ryan Seacrest and featuring appearances by Lucy Hale, Robin Thicke, and Olympic Gold Medalist Katie Ledecky. Country artist Cam also performed live for patients and other special guests.
Seacrest Studios at Children's National will operate under the station handle WPAW-90. The closed-circuit television and radio station will broadcast entertainment programming throughout the hospital, which will also allow patients who are unable to leave their rooms the opportunity to virtually interact with what is happening in the studio.
"It's an honor and privilege to expand our studio footprint to our nation's capitol," said Seacrest. "Children's National has fully embraced the spirit and intent of Seacrest Studios. We are confident that patients, their families, and the entire hospital community will benefit from the addition of our studio."
Kurt Newman, MD, President and CEO of Children's National, says bringing this studio into the hospital for patients is in line with the organization's mission. "We want our patients and families to not only have the best possible care, but also the best overall experience. The addition of Seacrest Studios to our Sheikh Zayed Campus will contribute positively to the healing process by providing an engaging and creative outlet for patients and their families," Dr. Newman added. "We are so grateful to the Ryan Seacrest Foundation for bringing this wonderful studio to our young patients, and creating a place where they can have fun and just be kids."
The studio is part of an entertainment initiative that radio and television host and producer Ryan Seacrest and his family developed to help patients explore the creative realms of radio, television, and new media. RSF aims to contribute positively to the healing process for children and their families during their stay, as well as to bring an uplifting spirit to the hospital community.
The studio will feature fun, interactive, and educational programs geared towards kids of all ages. Some of the programs may include game shows, bingo, top 40 music hour, prescription pets, celebrity talent, and karaoke.
With the help of their founding sponsors E! Entertainment and The Coca-Cola Company, RSF has opened eight other Seacrest Studios across the country; Children's Healthcare of Atlanta, Boston Children's Hospital, Children's Hospital Colorado, Children's Hospital of Philadelphia, Children's Hospital of Orange County, Levine Children's Hospital in Charlotte, Children's Medical Center in Dallas, and Cincinnati Children's Hospital Medical Center.
###
Contact: Emily Hartman or Lauren Lytle at 202-476-4500.