Five Winning Pediatric Device Innovators Receive Seed Funds to Develop Medical Devices for Children
$250,000 given to winners at second annual National Capital Consortium for Pediatric Device Innovation (NCC-PDI) Competition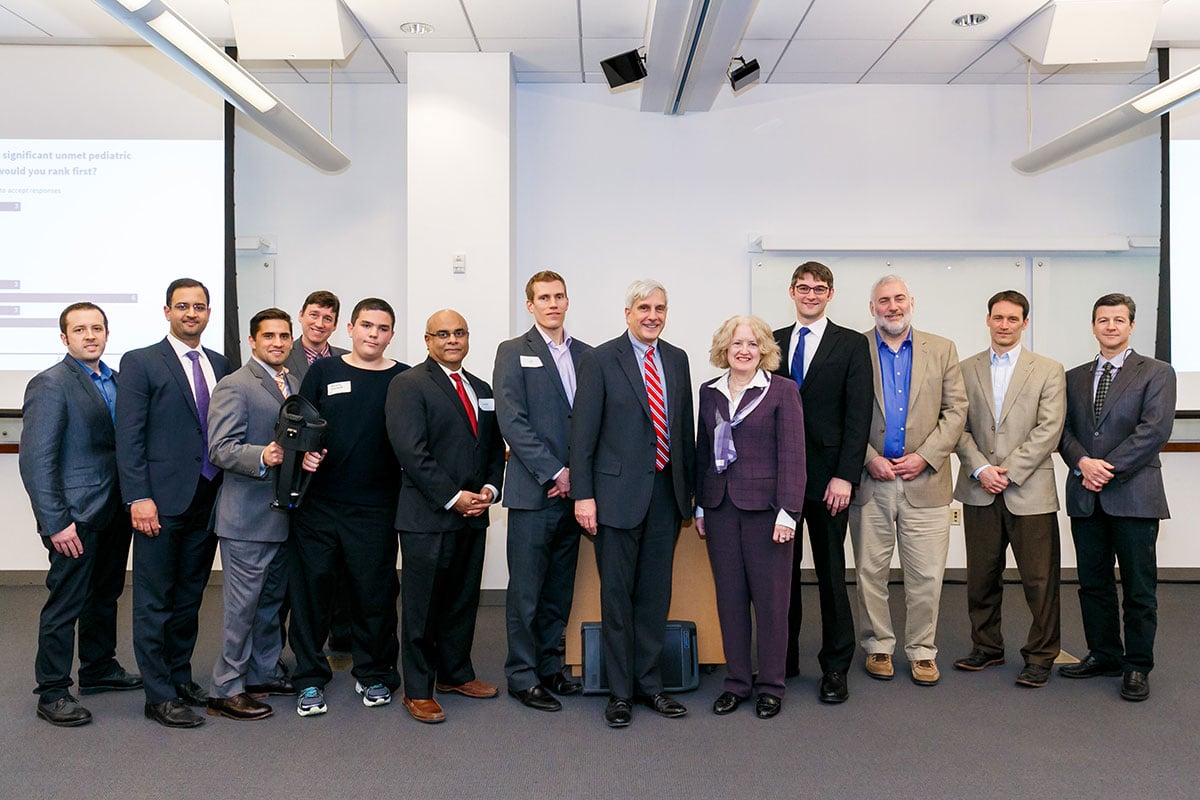 Washington, DC – Five pediatric medical device innovators were awarded $50,000 each in seed funding at the second annual National Capital Consortium for Pediatric Device Innovation (NCC-PDI) Competition held last week. The FDA funded consortium, led by the Sheikh Zayed Institute for Pediatric Surgical Innovation at Children's National Health System and the A. James Clark School of Engineering at the University of Maryland, awarded $250,000 in grant money to companies with promising pediatric medical devices that address a significant unmet pediatric need.
Winning innovations include:
Nanofiber Solutions, Columbus, Ohio – patient-specific nanofiber tissue engineered vascular graft (TEVG) to enhance the available treatments for children suffering from congenital heart disease (CHD)
University of Maryland Baltimore County, Center for Advanced Sensor Technology and GE Healthcare, Baltimore, Md. – noninvasive pediatric respiration monitor
PhotoniCare, Champaign, Ill. – imaging through the eardrum for improved diagnosis of middle ear disease
LIM Innovations, San Francisco, Calif. – modular and adjustable prosthetic socket for pediatric patients
University of Minnesota, Minneapolis, Minn. – human engineered tissue conduits for pediatric right ventricle outflow tract (RVOT) reconstruction
"Competitions like this are designed to advance promising pediatric device projects to enter the market," said Peter Kim, MD, CM, PhD, Vice President of the Sheikh Zayed Institute for Pediatric Surgical Innovation.
"Ultimately, the success of our program is measured by market availability of devices designed for and tested in children, and we consult and support innovators who are passionate about children's wellbeing."
A total of 31 submissions were received for the competition and winners were chosen from 12 finalists who each made a five-minute presentation to the audience and then responded to judges' questions.
"The NCC-PDI competition furthers the Consortium's commitment to foster collaboration and entrepreneurship to catalyze medical device development for children," said William E. Bentley, PhD, Robert E. Fischell Distinguished Professor and Chair of the Fischell Department of Bioengineering at the University of Maryland. "The groups taking part in this competition recognize that many of the health problems impacting children today cannot be solved using the same devices or treatment options that are available to adult populations. Even more, the solutions put forth by these innovators further demonstrate how today's bioengineers are uniquely positioned to improve quality of life for patients who may have once believed treatment was out of reach."
In addition to the competition, this year's event included a progress update from the 2014 awardees and a pediatric device innovation expo. Attendees also got an inside look at the rapid prototyping lab at the University of Maryland Technology Enterprise Institute (Mtech), an initiative helping to build university-company partnerships, and the Startup Shell, a multidisciplinary collaborative community of innovators designed to support the needs of student entrepreneurs on campus.
National Capital Consortium for Pediatric Device Innovation (NCC-PDI) is funded through FDA's Pediatric Device Consortia Grant Program. Formed in 2013, the Consortium provides infrastructure support and expert consultation on pediatric medical device development throughout the development lifecycle --- concept formation, prototyping, preclinical, clinical, manufacturing, marketing, and commercialization.
For more information about the NCC-PDI, visit www.innovate4kids.org.
Contact: Leah Parker, Children's National Health System, at 202-476-4500 or [email protected] or Lori Pennington, Carbonara Group, at 713-524-8170 or [email protected]
# # #