Winning Innovators in Pediatric Medical Device Competition at Children's National Health System Announced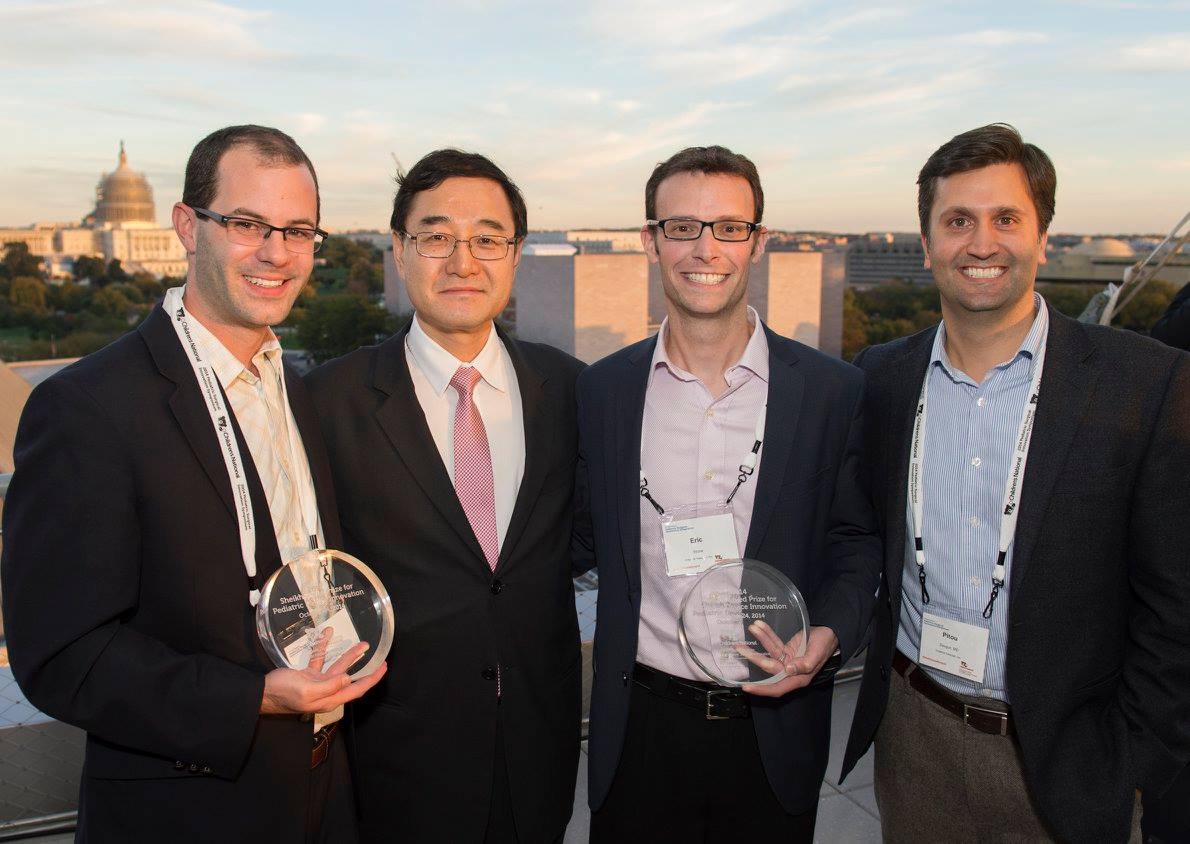 WASHINGTON – (Oct. 27, 2014) – Two pediatric medical device innovators, Velano Vascular and REBIScan, were selected from eight finalists to each receive a $50,000 award in a competition held by the Sheikh Zayed Institute for Pediatric Surgical Innovation at Children's National Health System as part of its second annual symposium focused on pediatric surgical innovation.
"Currently, the development of pediatric surgical and medical devices lags significantly behind the development of adult devices," said Peter Kim, MD, CM, Ph.D., vice president of the Sheikh Zayed Institute for Pediatric Surgical Innovation. "The purpose of today's symposium and competition is to focus attention and discussion on the challenges facing pediatric medical device development and how we can work together to meet these challenges for the benefit of children."
Sharing their device for the first time in a public forum, the team from Velano Vascular, of Philadelphia and San Francisco, presented a novel innovation that enables safe, effective needle-free blood draws for hospitalized children. Eric M. Stone, company co-founder, recalled for the judges his own painful memories of childhood hospitalization and the psychological impact of seemingly endless needle sticks. Reflecting on the result he said, "The competition's esteemed judges and the caliber of fellow presenters makes winning this prize even more validating as we make this technology a reality for our children."
Award-winner REBIScan, of Cambridge, Mass., presented a handheld vision scanner for the eradication of amblyopia ("lazy eye"). "Each year, over one million children worldwide lose their vision because of the lack of early detection from eye conditions such as amblyopia," said presenter Justin G. Shaka, CEO and co-founder. "This prize has a deep impact because it will enable us to transition from the regulatory phase into manufacturing so that we can get our device into the hands of clinicians."
A total of 56 submissions from five countries were received for the competition. The finalists each made five-minute presentations to the symposium audience and then responded to judges' questions.
The highly competitive finalist line-up included:
Georgia Tech, Atlanta, GA – wireless leak detection (WiLD) sensor for pediatric urodynamics studies
Center for Advanced Sensor Technology, University of Maryland Baltimore County, and GE Healthcare, Baltimore, MD – noninvasive pediatric respiration monitor
University of Michigan, Ann Arbor, MI – pre-clinical implantable mechanical device for intestinal lengthening in children with short bowel syndrome
Children's National Health System, Washington, DC – neonatal EEG monitoring by dry-contact sensors (NEMO)
LIM Innovations Inc., San Francisco, CA – modular and adjustable prosthetic socket for pediatric patients
Procyrion Inc., Houston, TX – pediatric-specific implant and control systems for use with a novel catheter-based cavopulmonary support device for management of single ventricle physiologies associated with the Fontan procedure
Representing clinical, investor and intellectual property expertise, the distinguished panel of judges included: Charles Berul, MD, chief of Cardiology at Children's National; Mark Fitzgerald, partner, The Law Firm of Wilson Sonsini Goodrich & Rosatti; Michael Harrison, MD, founding director of the Fetal Treatment Center, University of California - San Francisco; Evan Jones, managing member, jVen Capital; Peyvand Khaleghian, MD, Avicenna Partners Investment Company; and Tim Moran, founder and CEO, PediaVascular.
With the second annual symposium, the Sheikh Zayed Institute for Pediatric Surgical Innovation brought together key leaders from the National Institutes of Health, the Food and Drug Administration, medical device industry, law firms, pediatric societies and advocacy groups, along with scientists, engineers, clinicians and policy makers.
The symposium's keynote address was delivered by Margaret A. Hamburg, MD, commissioner of the FDA who described the Sheikh Zayed Institute and Children's National as "a model to emulate" in recognizing that, in addition to bringing together a critical mass of talented experts, significant healthcare advances require creative connections with patients and families, clinical, academic, government and corporate partners in Washington, the nation and the world.
The event drew more than 220 attendees and was held at The Newseum in Washington, D.C. The program also included panel discussions on the clinical and regulatory pathways for pediatric devices, lessons to be learned from pediatric drug development, growth capital for pediatric innovation and coverage reimbursement from the payor perspective.
"Through this symposium, the Sheikh Zayed Institute is fostering concrete, achievable action to improve the health of children," said Kurt Newman, MD, president and CEO of Children's National Health System. "Their metabolism and overall response to biologics, medical devices and surgical procedures differs from adults, making it essential to find efficient and effective ways to develop regulated and well-researched devices and therapies tailored to their needs."
Founded in 2010 through a $150 million gift from the government of Abu Dhabi, the mission of the Sheikh Zayed Institute for Pediatric Surgical Innovation is to make pediatric surgery more precise, less invasive and pain free. The institute is comprised of multi-disciplinary teams that apply rigorous process management from conception to marketed product through creative partnerships in academia and industry.