Children's National receives widespread recognition for its fight against HIV-associated childhood renal diseases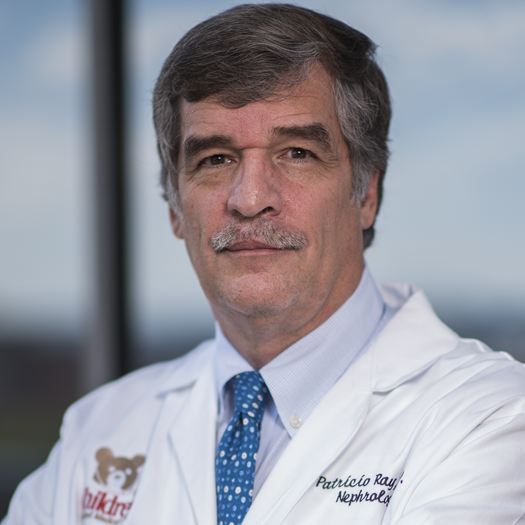 Washington, DC -- Over the last 20 years, Children's National Health System has received continued national and international recognition as well as steady grant support from the National Institutes of Health (NIH) for its successful fight against HIV-associated renal diseases in children.
"We are proud of the progress made at Children's in response to the AIDS epidemic," says Patricio Ray, MD, a pediatric nephrologist who is director of Nephrology Research, Division of Pediatric Nephrology at Children's Research Institute.
For their latest innovation, Dr. Ray and his team received grant support from the NIH to explore a novel mechanism by which HIV-1 infects renal epithelial cells that play an essential role in the function of the kidney.
Dr. Ray hopes that these studies will determine how HIV-1 can infect CD4 negative epithelial cells in the kidney, placenta, and other tissues. CD4 is the main cell surface molecule that allows HIV-1 to infect cells, and CD4 negative cells do not express this molecule.
The team's studies could lead to the discovery of new treatments to prevent the infection of kidney epithelial cells and other CD4 negative cells that are hidden in reservoirs throughout the body, including the placenta, and in this manner, prevent the vertical transmission of HIV-1 from mother to children.
Since the late 1980s, Dr. Ray has been working on AIDS-related issues, particularly HIVAN, (HIV-associated nephropathy), which leads to renal enlargement and rapid progression toward kidney failure.
Although it is not known why, HIVAN almost exclusively affects children of African ancestry. It is estimated that about 300,000 HIV-infected children living in the sub-Saharan Africa will develop HIVAN if they do not receive appropriate antiretroviral therapy.
Years ago, Dr. Ray recalls that many children with HIVAN died less than one year after the diagnosis of HIVAN was made. At the time, "it was extremely sad," he says, because "we did not know what caused HIVAN or how to treat and alleviate the suffering."
In response to the pressing clinical problem, Dr. Ray established one of the first pediatric nephrology research programs in the country to study the pathogenesis and treatment of HIV-associated renal diseases in children at Children's National. Over the last 20 years, this program has become very successful and has received international recognition and steady grant support from the NIH.
Dr. Ray states that one of the first accomplishments of this research program was the discovery that kidney epithelial isolated from the urine of children with HIVAN could be infected with viruses harvested from the same children. In addition, Dr. Ray's group has been developing new non-invasive biomarkers to follow the renal outcome of HIV-infected children. "The final goal of these studies is to establish a biomarker signature to establish the diagnosis of HIVAN and follow up the renal outcome of these children without doing renal biopsies or other invasive tests," he said.
Today, Dr. Ray is happy to see that the outcome of HIV-infected children has improved in a remarkable manner due the effects of new antiretroviral therapies. "Unfortunately, the early identification of HIV-1 infected pregnant women and the prevention of the vertical transmission of HIV-1 continues to be a health challenge through the world, and we continue to see HIV-infected children in Washington, DC," Dr. Ray says. "More work needs to be done to improve the outcome of these children and to understand why the kidney of African-Americans is targeted by HIV-1."
Dr. Ray is the Robert Parrott professor of pediatrics at Children's and the George Washington University School of Medicine & Health Sciences and an adjunct professor of pediatrics at Georgetown University School of Medicine. Dr. Ray says he wants to recognize "the incredible team of individuals who worked at Children's in this program during all these years, as well as the support received from collaborators working at the George Washington University, the National Institutes of Health, and Georgetown University."
"In looking back at the 20 years of this program, we hope that the work done at Children's will continue to improve our understanding of the pathogenesis of all childhood HIV-associated renal disease, improve the quality of life and treatment of these children, and also help prevent the progression of many other renal diseases in African-American children," Dr. Ray says.
Contact: Joe Cantlupe at 202-476-4500.