Meet Reginald Bannerman, RN, MSN, MBA, NE-BC
Director of Nursing, Child Psychiatry Unit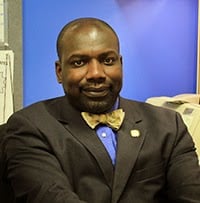 Reginald E. Bannerman, RN, MSN, MBA, NE-BC, hails from a family of lawyers and doctors, and as a young person, leaned toward a career in medicine, but it wasn't until he met his brother's college roommate, who was a nurse that he considered this noble profession.
"I love helping people, why not nursing," he recalled thinking at the time as he weighed the cost to study medicine and his desire to help the infirmed.
Before working at Children's National, his experience included working with adults, teenagers and children with eating disorders and other psychiatric ailments. His clients ranged from 9 to 81 years old, and younger patients helped deepen a personal goal to address challenges early in life so that the patient could prevent a lifetime of struggles, he said.
This passion for helping those struggling with mental illness lead Bannerman to his current role as the director of nursing for the Child Psychiatry Unit.
"Some mental illnesses are very life-challenging, and could follow them for the rest of their lives, if left unaddressed or untreated," he said, sitting in his fourth-floor office in the Sheikh Zayed Campus.
We celebrate with them. Nurses on the unit care a lot.
- Reginald E. Bannerman, RN ,MSN, MBA, NE-BC
He beamed as he spoke about the work of the nurses in his department, which generally serves children ages 4-17. He said what he likes most about being a nurse is the "ability to spend time with patients" as they implement the interventions outlined by the treatment team, particularly encouraging children – such as those in the foster care system – who may not have relatives visiting them.
"We celebrate with them. Nurses on the unit care a lot," he said before describing instances when some of the nurses have organized birthday celebrations and brought gifts and watched over children in their care.
He applauded the demonstration of a collective team within the unit as well as their collaborative spirit to fellow professionals across Children's as they encounter children who need psychiatric support.
A good day, he said, is when he and his colleagues see the patients smiling because often when they first encounter the child they're at their most vulnerable and sad state.
"Seeing a patient come in day one and they come in with thoughts of self-harm, perhaps have even attempted to hurt themselves and to grow from that into a child who is laughing and cracking jokes with the staff and appears to love life again, that is icing on the cake for me," he said.
He values how he and his colleagues acutely work to "make sure our patients are safe and well taken care of" as well as advocate for better awareness of some of the illnesses affecting them."