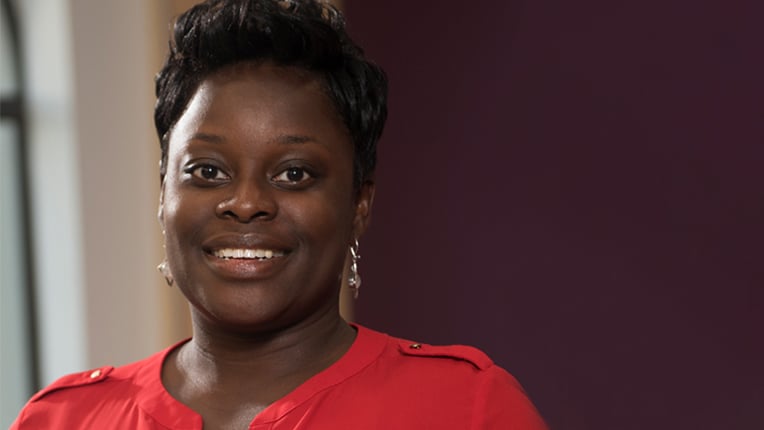 Meet Hope Rhodes, M.D., MPH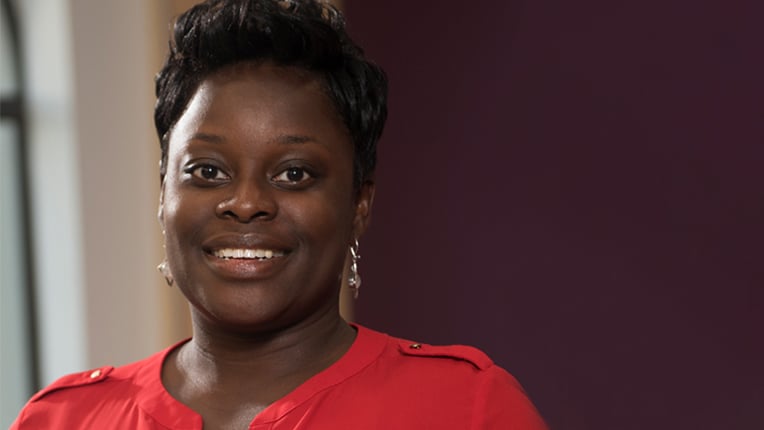 Hope Rhodes, M.D., MPH, is a pediatrician at Children's Health Center in Anacostia and is the co-medical director for our Healthy Generations Program. She has been a part of our Children's National community since 2006, when she began our Pediatric Residency Program. She served as a Chief Pediatric Resident from 2009-2010, after which she joined the faculty at what is now the Children's Health Center (CHC) in Anacostia. In addition to her role at Children's, Dr. Rhodes is a member of the American Academy of Pediatrics and various subcommittees including the Council on Community Pediatrics, Section on Adolescent Health and Section on Minority Health, Equality and Inclusion. She is also a member of the Maternal and Child Health, Community Health Planning and Policy Development committees of the American Public Health Association.
Dr. Rhodes completed her undergraduate and medical school education at Howard University in Washington, D.C., and attended Johns Hopkins Bloomberg School of Public Health where she received her master's degree in Public Health. She has recently been accepted to the George Washington University Atlantic Fellowship for Health Equity, a program which is part of a larger global community committed to addressing various aspects of health equity. In this program, she hopes to reinforce her knowledge and skills in addressing health disparities across our healthcare system.
Dr. Rhodes was born and raised in Baltimore City, an upbringing which provided her with an early introduction to how psychosocial factors impact health outcomes. "My upbringing sparked an interest in serving a patient population similar to the communities in the Anacostia location," she says of her background. As a pediatrician at Children's and a participant in the National Health Services Corps, Dr. Rhodes' daily goal is to "provide comprehensive, culturally competent care to children from under-resourced communities." In her daily role at CHC-Anacostia, she serves as a champion for quality improvements in reproductive health services, early childhood development services and mental health services.
She is particularly interested in a variety of health related subjects including reproductive health, adolescent parents, health equity and medical education. She is extremely passionate about these topics, and stresses the importance of viewing our healthcare system through a lens of advocacy. "The social situations for many of the patients that access our health centers are unfortunate. The adverse childhood experiences, toxic stress and affiliated health outcomes are often generational. Providing access to quality care for the community through the lens of advocacy and health equity is vital to the work done in our community health centers," says Dr. Rhodes.
Dr. Rhodes has played a critical role in the successful development and implementation of several initiatives aimed at addressing reproductive health issues and serving adolescent parents. She led the charge to restart the Title X-funded program at CHC-Anacostia which equips the health center with an array of reproductive health resources, including a reproductive health case manager. She also manages Project LATER — Linking Alternatives to Early Reproduction — which is funded by the D.C. Department of Health Teen Pregnancy Prevention Program. All of this is in addition to her work with the Healthy Generations Program, which operates in all of our Children's Health Centers and is aimed at providing care for teen parents and their children.
She says that, "I am also passionate about and am committed to training the next generation of medical providers. Whether they are interested in community pediatrics or surgery, I want all students and trainees to pursue their careers through an advocacy lens, always asking how they can best advocate for their patients in large and small ways."
Dr. Rhodes truly loves being a part of our Children's community. "As a medical student rotating for the first time, I knew this is where I belonged after walking into the main atrium. I got the sense that it was all about the children!" She continues, stating that "I also love the passion that everyone has to improving health outcomes in their respective areas. When you put all of these passionate people together in an organization that has a well-defined mission and vision, and provides appropriate support and leadership, the outcome moves the needle for pediatric health in large and small ways!"
When she is not hard at work serving our communities, Dr. Rhodes can be found spending time with her two beautiful children and doting husband.
Thank you, Dr. Rhodes, for all of the incredible work that you do for our patients, families and the organization as a whole!