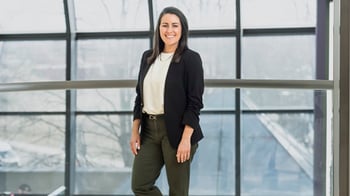 Meet Ashley E. Wilson, MHSA
Executive Director, Supply Chain Services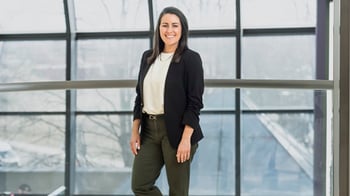 Ashley E. Wilson, MHSA, executive director of Supply Chain Services, started at Children's National Hospital almost 10 years ago as an intern. While getting her master's in health systems administration at Georgetown University, Ashley knew she wanted to work in a pediatric hospital but wasn't sure what department. During a six-month internship in Supply Chain, Ashley said she, "quickly appreciated how impactful the Supply Chain department was to hospital operations and recognized significant areas of opportunities for improvement that would better support the clinical side." She also liked the idea of pushing process boundaries and the possibility of making significant change.

Now almost 10 years later, Ashley has rebuilt our supply replenishment processes into the current Bear Bin program. "I wanted to build a process and program that allowed the Supply Chain team to deliver supplies effectively and efficiently to the front-line clinicians to ensure they had what they needed at the right place, right time and right price," Ashley said. "We have layered in analytics and data to proactively meet the demand of supplies and it has made the entire department more sophisticated."
Ashley has also worked toward bringing more women-owned and minority-owned business into our vendor pool, recognizing the benefit of engaging in business with local suppliers. "It helps strengthen our local economy in Washington, D.C., by growing D.C. based minority-owned businesses, creating jobs and building community wealth," she said. "Children's National can further support our patients and families through the economic growth of our immediate community."

"As a female leader, I appreciate the strength and drive of local women-owned businesses and we have been able to establish invaluable partnerships with companies like Bialek and Trans-time (both women-owned)," Ashley explained. "We can continue the growth of women-owned and minority-owned business by increasing awareness of these companies, reducing barriers of entry and affording business development opportunities."

An effective supply chain is critical to the operations of any hospital. Ashley and her team managed through a pandemic that challenged healthcare supply chain departments across the world in ways we will likely never see again.

"Our Supply Chain team was resilient, effective and I am proud to say that with the partnership of the clinical teams, we never ran out of supplies," she said. "Our number one goal will always be to ensure our clinical partners have the supply and support they need to provide the very best and safe care for our patients."

Thank you Ashley and the entire Supply Chain team for all that you do!