When your child is a cancer survivor, long-term follow-up care is essential to help your loved one thrive and stay as healthy as possible.
At Children's National Hospital, young cancer survivors in our Cancer Survivorship Program receive comprehensive care from a team that quickly manages complications caused by previous cancer therapy. Our expert physicians, physician assistants, nurses and psychologists are committed to helping your child live a long and healthy life.
Cancer Care at Children's National
Learn more about our Oncology program with a dedicated team of experts treating children with cancer.
Contact Information
For appointments, please call 1-888-884-BEAR (2327) and for information, call 202-476-2167.
Compassionate Care Focused on Your Child's Physical and Emotional Health
Our Oncology Program is ranked #4 in the nation by U.S. News & World Report. We are the only hospital in the Washington, D.C., area with a team of experienced specialists who follow children through adolescence and young adulthood, helping them manage any complications from cancer treatment. This continuity of care means we know our patients thoroughly.
And since we welcome all survivors of childhood cancer, even those who've had treatment at other hospitals, we attract patients needing long-term care from all over the country.
What to Expect: The Cancer Survivorship Program
Early Intervention
Two years after your child's completion of therapy for any cancer diagnosis, (including bone marrow transplant survivors) he or she will begin follow-up care. During visits that occur every six to 12 months, our specialists will thoroughly assess your child's overall health. We monitor for potential impact on your child's health, including heart, lung and growth development.
We treat any long-term side effects at the earliest stages and check for potential complications that can be difficult to detect. We work closely with your child's primary care specialist to address whether further steps are needed and we take time to discuss any concerns you may have.
Multidisciplinary Support for a Healthy Future
Many long-term effects of treatment can have a serious impact on your child's overall well-being. That's why our nationally-renowned team of oncologists, cardiologists and endocrinologists care for your child's physical needs while a dedicated social worker and psychologist provide comforting guidance and emotional support. Together, we meet with your child regularly to look for developmental and behavioral changes and help kids cope with social issues such as transitioning back to school.
Thorough Review of Medical History
We create a personalized treatment plan for every child tailored to his or specific cancer diagnosis, individual needs and recommendations for ongoing monitoring that can be shared with other doctors. We keep you as informed as possible about your child's progression and important milestones throughout their journey with us.
Education that Empowers Families
Helping your family understand the potential long-term effects of treatment is critical to our care. We help you identify the risk of heart problems, learning disabilities and other potential health complications so you can make informed decisions about your child's health. Additionally, a nutritionist will help establish healthy habits and behaviors so your child can grow to their greatest potential.
Meet the Team
Physician Assistant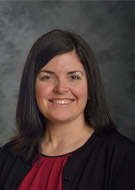 Katie Lynn Reid, MB,ChB,PA-C
Katie Lynn Reid, MB,ChB,PA-C
Locations
Departments