Getting to the Heart of Cardiac Malposition With Fetal MRI
Fetal MRI can complement ultrasound and echocardiography in correctly diagnosing cardiac malposition
WASHINGTON, DC – In a small percentage of pregnancies, the fetuses' hearts develop in the wrong place. In the congenital anomaly known as heterotaxy syndrome that often includes a severe heart defect, the heart is often displaced from its usual position in the left chest. In other instances, the heart starts out in a normal position; however, it is pushed out of its normal position by a mass that grows in the chest cavity, by abnormal development of the lungs, or due to other causes. Although rare, babies born with cardiac malpositions associated with other congenital defects can be the most serious of all possible birth defects.
Sometimes, fetuses with these congenital problems die in the womb. Others do not survive long after birth. In some pregnancies, surgery is performed shortly after childbirth to stabilize the circulation so newborns even have a chance at life.
Correctly diagnosing these cardiac conditions during pregnancy can help doctors and parents alike make the most informed decisions and plan ahead.
However, the tools now used most often to reveal the overall anatomic details of cardiac malpositions — obstetrical ultrasound and fetal echocardiography — often don't give a full picture. A clear view of the fetus can be obscured by the position of the fetus, insufficient amniotic fluid, or even a mother's body habitus. Imaging techniques sometimes also have a hard time distinguishing between liver, bowel, and lung because the echogenicity of these tissues — the signature that sound waves make as they bounce back from their targets — is so similar.
"To be able to offer parents the best and most comprehensive counseling, and to begin planning for the type of intensive and multidisciplinary care that many of these babies will require, we need to have access to as much information as we can about each baby, not only relating to the heart but all the other organs as well," says Mary T. Donofrio, MD, a pediatric cardiologist who directs the Children's National Health System Fetal Heart Program and Critical Care Delivery Program. "Unfortunately in some instances, obstetrical ultrasound and fetal echocardiography, the two diagnostic tools used most often in these cases, can be limited in what they tell us."
An underutilized technique that gathers more details about the associated abnormalities that often accompany cardiac malposition during pregnancy is fetal magnetic resonance imaging, or fetal MRI, says Dr. Donofrio. Even though this technique is widely used to diagnose other fetal conditions, such as brain anomalies, it's rarely used to better define the overall anatomy in cardiac malposition.
To determine whether fetal MRI is effective in complementing obstetrical ultrasound and fetal echocardiography, the current standard of care for this condition, Dr. Donofrio and colleagues took a retrospective look at all cases of cardiac malposition in which fetuses were evaluated using MRI between 2008 to 2013 at Children's National. Their search turned up 42 cases.
Twenty-three cases had been diagnosed with obstetrical ultrasound and fetal echocardiography as having additional abnormalities beyond the heart's changed position, and 19 had been given the diagnosis of heterotaxy syndrome. Each patient had been assigned to various known subtypes of these conditions, with some classified as having an unknown etiology for the findings.
After fetal MRI, the diagnoses of nearly one-third changed or were better delineated. Seven of the 23 cases of cardiac malposition attributed to an extra cardiac anomaly were reassigned to a cause different from the original diagnosis based on the new, more detailed information provided by fetal MRI, including three in which a complete diagnosis could not be made due to poor visualization by ultrasound. Five of the 19 cases attributed of heterotaxy were reassigned to different subgroups within this disorder or were given a different diagnosis completely after fetal MRI.
In eight of these 12 diagnoses that changed after fetal MRI, doctors were able to confirm these findings postnatally. Other cases were either lost to follow-up, pregnancy termination, or fetal demise. The research team led by Dr. Donofrio published these results in the August 2016 issue of Prenatal Diagnosis.
Overall, she says the findings demonstrated the benefits of using fetal MRI as an adjunct to obstetrical ultrasound and fetal echocardiography. MRI offers advantages over ultrasound, she explains, including better spatial resolution, a wider field of view, and a way to see through or around maternal body fat, overlying fetal bone, or a fetus whose position is not optimal.
"Determining the etiology of cardiac malposition remains a challenging diagnosis, and the value of accurate prenatal diagnosis has been long recognized," Donofrio and colleagues write in the study. "Ultimately, fetal MRI can assist with identifying the etiology of cardiac malposition for informative prenatal counseling and multidisciplinary planning."
Contact: Diedtra Henderson | Children's National Health System | c: 443-610-9826/o: 202-476-4500 | dhenderso2@childrensnational.org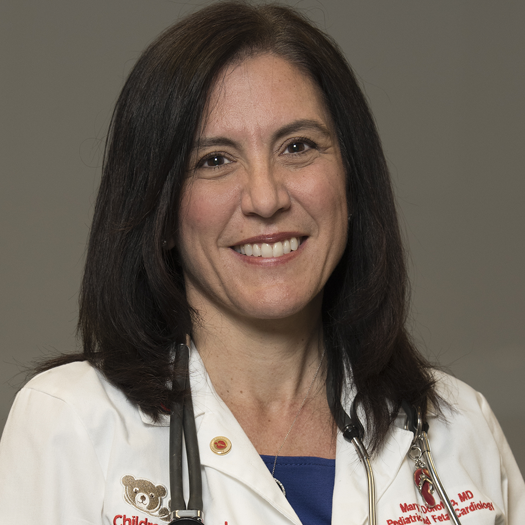 Mary Teresa Donofrio, FAAP,FACC,FASE,MD
Medical Director, Prenatal Cardiology Program
Co-Director, Cardiac Neurodevelopmental Outcome Program
Advanced Imaging Cardiologist