Eugenie "Genie" Heitmiller, MD, FAAP, Named Chief of Anesthesiology at Children's National Health System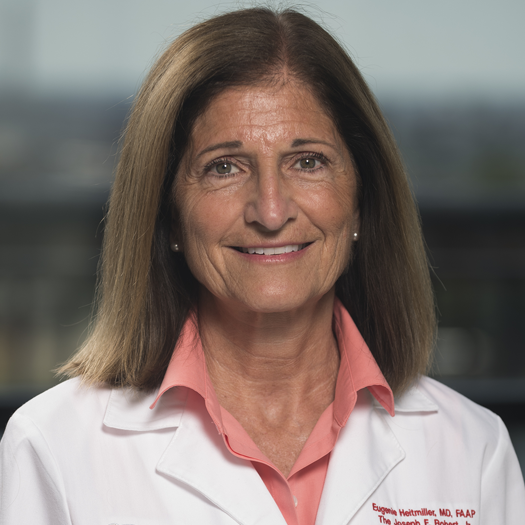 Eugenie "Genie" Heitmiller, MD, FAAP, a nationally recognized leader in pediatric anesthesiology, has been appointed Chief of the Division of Anesthesiology, Sedation, and Perioperative Medicine at Children's National Health System.
Dr. Heitmiller succeeds Richard Kaplan, MD, who has led the division the past nine years and was instrumental in developing and recruiting talented faculty, according to Anthony D. Sandler, MD, Senior Vice President of the Joseph E. Robert Jr., Center for Surgical Care. Dr. Heitmiller's appointment became effective June 1. Dr. Kaplan will remain at Children's National as professor of anesthesiology and part-time faculty and will help to guide the transition.
Dr. Heitmiller joins Children's National from the Johns Hopkins University School of Medicine, where since 1984 she served on the faculty in the Department of Anesthesia, Critical Care Medicine, with a particular expertise in cardiac anesthesia. She completed her medical school training at Georgetown University, followed by residencies in pediatrics and anesthesiology, and a fellowship in cardiac and pediatric anesthesiology at Johns Hopkins.
"This is very exciting for me to be at Children's National," said Dr. Heitmiller. "Everybody is for the kids, it's all about the kids, and that's what I really love. We are among the top pediatric hospitals in America, and there is a reason for that, as we always strive to do even better."
"We are delighted that Dr. Heitmiller has joined the Children's National community, given her impressive credentials and commitment to advancing the care of pediatric anesthesia," Dr. Sandler said. "She has contributed to the field of anesthesia in a number of ways and been on the leading edge of the national quality movement to advance pediatric anesthesia," Dr. Sandler added.
Having written extensively on topics from the management of patients who have compromised airways to anesthesia system issues such as developing and implementing quality control processes, Dr. Heitmiller has made a major impact in the field, Dr. Sandler said.
At the John Hopkins School of Medicine, Dr. Heitmiller was Professor of Anesthesiology and Vice Chair for Clinical Affairs in the Department of Anesthesia and Critical Care Medicine. Dr. Heitmiller served as Chair of the Hospital Risk Management Committee, departmental Physician Advisor for Clinical Quality Improvement, and early in her career, developed and directed the transesophageal echocardiography program at Johns Hopkins.
"Everything in a hospital is about safety and quality. Patients and their families want to feel that they are in a safe environment," Dr. Heitmiller said. "So much of quality is intertwined with promoting safer care and continuously striving to make improvements happen. Patient satisfaction is often a measure of those efforts," Dr. Heitmiller said.
Children's surgical innovations, such as its pre-operative care clinic, which ensures that children with medically complex conditions and special needs receive appropriate care before surgery, is a reflection of its continual focus on value and quality, she said. Among her goals is to expand education to the public about anesthesia practices to improve patient and family comfort.
Dr. Heitmiller was a founding charter member in 2006 of the National Congenital Cardiac Anesthesia Society, served on the original Executive Board of "Wake-Up Safe," a federally certified patient safety organization, and is currently Chair of the Quality and Safety Committee for the Society for Pediatric Anesthesia.
As a mentor of many physicians throughout her career, a published author of more than 50 peer-reviewed publications and 34 chapters, and an editor of an anesthesia handbook, Dr. Heitmiller "is well-positioned to lead our anesthesia program," Dr. Sandler said.
Contact: Emily Hartman or Caitlyn Camacho at 202-476-4500.
###
Related Departments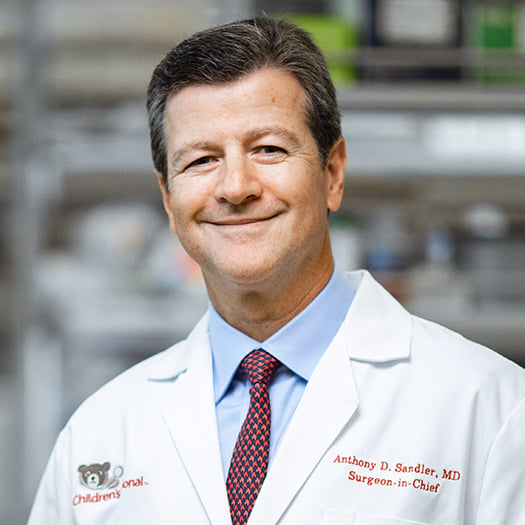 Anthony David Sandler, MD
Senior Vice President and Surgeon-in-Chief Joseph E. Robert Jr., Center for Surgical Care
Anthony David Sandler, MD
Locations
Departments