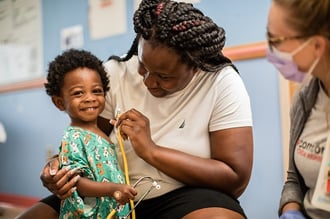 Telehealth appointments provide families the opportunity to see their healthcare providers remotely through video visits from the comfort of their own homes. We offer both primary and specialty care appointments through telehealth. These appointments are available to new or existing Children's National Hospital patients in Washington, D.C., Maryland and Virginia, and can be done using a phone, tablet or computer.
No matter where you're located, we're making it easier for you and your child to get care by:
Minimizing time taken off of work and school
Minimizing time traveling to and from your doctor's office
Extending virtual appointment hours beyond the typical workday
Helping you manage medications and medication renewals with your doctor
Offering payments through FSA, Flex and similar accounts
Increasing access for families who live far from our locations
Scheduling an Appointment
Telehealth appointments are available during normal Children's National business hours. If you would like to schedule an appointment, please call our appointment line at 1-888-884-BEAR (2327).
Before your appointment, please read our instructions for telehealth appointments. You will also need to read or listen to our telehealth consent form before your scheduled video visit.
If you're interested in more information, email us.
Our Programs
Children's National experts practice medicine in a wide range of specialties, many of which are accessible through our telehealth program.
Will insurance pay for my telehealth appointment?
Will my medical visit be secure?
Are telehealth services provided for non-English speakers?
Can the provider prescribe medication for my child?
How can I schedule, reschedule or cancel my appointment?