Six pediatric device innovators awarded total of $150,000 at Children's National 6th Annual Pediatric Device Symposium
Competition awards expanded because of high caliber of medical devices presented for pediatric cardiovascular patients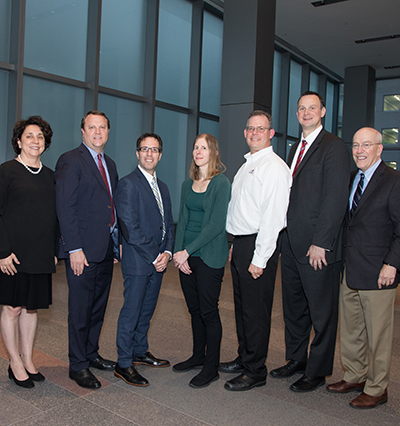 WASHINGTON – Six companies presenting innovative medical devices that address significant unmet needs in pediatric healthcare were recently awarded a total of $150,000 in grants in Philadelphia, Penn. at the Sixth Annual Pediatric Device Innovation Symposium organized by the Sheikh Zayed Institute for Pediatric Surgical Innovation at Children's National Health System.
The "Make Your Medical Device Pitch for Kids!" competition this year focused on pediatric cardiovascular devices, an area where new devices can make a life-changing difference, especially for younger children. The Centers for Disease Control and Prevention estimate that 40,000 children are born annually in the U.S. with a congenital heart defect (CHD) and approximately 1 million U.S. children currently live with a CHD.
The pitch competition was originally slated to award $100,000 in grants; however, because of the judges' response to the quality and potential of the technologies presented, Children's National expanded the award grants to $150,000 to include six awardees.
"It is my pleasure to congratulate this year's award-winning innovators and to applaud all the participants for their efforts to bring new devices to market that will improve care for children," said Kurt Newman, M.D., president and CEO of Children's National. "It is vitally important that we support advances in pediatric medical devices, especially in light of the challenges innovators face in addressing this specialized market. Children's National is committed to bringing together innovators, clinicians, policy makers, payors and investors to increase the pace of pediatric device development for the benefit of children everywhere."
Each of the award-winning companies received a $25,000 grant to help bring their pediatric medical device to market faster. Along with the funds, the awardees will receive advisory services from the Sheikh Zayed Institute's innovation resource network. The winners were selected from a field of eleven finalists, with a total of 45 device submissions received from national and international innovators. The awards were announced at the symposium's closing reception hosted by Children's Hospital of Philadelphia.
This year's pediatric device competition award recipients are:
"We are honored to recognize these outstanding innovations and we already envision the ways they can advance care for children," said Kolaleh Eskandanian, Ph.D., vice president and chief innovation officer at Children's National and principal investigator of the National Capital Consortium for Pediatric Device Innovation (NCC-PDI). "We are delighted to welcome these new innovative companies to our family of pediatric device startups and entrepreneurs. Together we can address critical patient needs and bring important new pediatric devices to market."
Eskandanian said that, in addition to the financial support and consultation services through Children's National, the awardees can leverage the validation received through this highly competitive process to raise the additional capital needed for commercialization.
The eleven finalists each made five-minute presentations to the symposium audience and then responded to judges' questions. Finalists also included CardioSounds, Circadiance, EspeRare Foundation, Flow Forward Medical, Inc. and PyrAmes, Inc.
The following experts served on the distinguished panel of judges:
The pitch competition is one of the highlights of the annual one-day symposium organized by Children's National to bring together medical device innovators, investors, researchers, clinicians and policy makers to advance pediatric healthcare and address the unmet surgical and medical device needs of children. The nation's leading pediatric device symposium is a joint effort with The MedTech Conference powered by AdvaMed, the premier gathering of medtech professionals in North America.
Keynote speakers at the symposium, which was themed "Using Real World Evidence to Drive Pediatric Innovation," included Hemant Virkar, president and CEO of Digital Infuzion, Inc; Tonya Kinlow, vice president of community engagement, advocacy & government affairs at Children's National; Susan Sweat, senior vice president, Cornerstone Government Affairs; and Vasum Peiris, M.D., chief medical officer, Pediatrics and Special Populations, FDA, whose remarks were part of a live podcast "BioTalk with Rich Bendis," hosted by Richard Bendis, president and CEO of BioHealth Innovation, Inc.
Media Contact: Debbie Asrate | 202-476-4500
About Children's National Health System