PetSmart Charities grant expands pet therapy program at Children's National
More than 9,000 kids set to receive benefits of pet therapy, up from 480 kids in 2017, because of a generous grant to Children's National from PetSmart Charities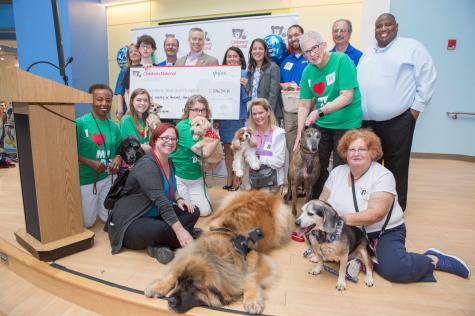 WASHINGTON
– Children's National Health System and PetSmart Charities today announced the animal welfare funder's commitment of more than $270,000 to expand a popular pet therapy program.
The grant will enable Children's National to add the program's first ever full-time coordinator to facilitate more visits to patients throughout the hospital and outpatient clinics. With this critical funding support, the program hopes to expand from three dog and handler volunteer teams to up to 30 by 2019, serving more than 9,000 patients per year, compared with 480 in 2017.
The Animal Visitation and Pet Therapy Program promotes healing in children undergoing medical treatment. The program's four-legged friends provide a healthy diversion— easing anxieties, increasing confidence, and encouraging cooperation.
Lane, of Princess Anne, Md., spent two weeks at Children's National in June because of Crohn's disease. When the 17-year-old came down with sepsis in July, Lane's mom was told that if she did not bring him back to Children's National immediately, he might not survive the night. Lane needed several rounds of antibiotics and some inspiration from a few four-legged, furry volunteers before he started feeling like himself again.
"The idea of going to play with the therapy dogs motivated Lane to get out of bed for the first time," said Lane's mom, Tina, with tears in her eyes. "He smiled the whole time and really opened up to the team about his love for dogs and our dogs back home."
The Animal Visitation and Pet Therapy Program began in 2003, when Allie and Adelle Lee, founders of Greenbelt Dog Training in Greenbelt, Md. requested that their pet dog visit their hospitalized son. Since then, Children's National has partnered with Greenbelt Dog Training to bring dogs in at least twice a month. In addition, several physicians have incorporated pets into treatment, in areas including psychotherapy for eating disorders and treatment for speech delays.
"We are so grateful for this generous gift from PetSmart Charities," said Kurt Newman, M.D., president and CEO at Children's National. "We are always looking for new ways to provide a holistic and integrated atmosphere for our patients. This support will enhance the experience of our patients, such as Lane—bringing joy, comfort, and unique therapeutic benefits to children for years to come."
David Haworth, DVM, Ph.D., president of PetSmart Charities, said, "In addition to providing comfort to young patients while they are receiving lifesaving treatments, families and staff members at Children's National can all benefit from the healing powers of the human-animal bond. Expanding the Animal Visitation and Pet Therapy Program will bring more people in need unconditional love and a refreshing diversion from what can be a very stressful experience. We are excited to partner with Children's National to bring more smiles to those in need with the help of their two-legged and four-legged volunteers."
In 2016, PetSmart Charities, the leading funder of animal welfare in North America, expanded its mission to support programs that bring people and pets together in impactful ways. "
Enhancing the Quality of Life Through Pets
" grants like this one supporting Children's National support the human-animal bond, equipping pets to make a difference in the lives of people. Together with PetSmart, PetSmart Charities has committed nearly $4 million in grants to support animal-assisted therapy programs at hospitals across North America.
For more information on the Animal Visitation and Pet Therapy Program at Children's National, visit ChildrensNational.org. For more information on PetSmart Charities, please visit PetSmartCharities.org.
Media Contact: Morgan McKean | 251-421-1111
About Children's National Health System