Children's National advances to final round of STAT Madness
Novel facial recognition technology can diagnose rare diseases, leading to earlier treatment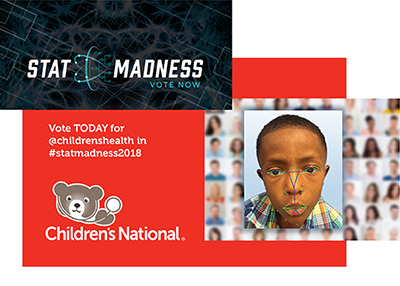 WASHINGTON–An innovation created by Children's National Health System researchers and clinicians has advanced to the final round of the second-annual STAT Madness, a contest to spotlight breakthroughs in science and medicine. The competition is hosted by STAT, an online news outlet covering health, medicine and scientific discovery. Its timing coincides with "March Madness," the national collegiate basketball tournament.
The biomedical version of the bracket-style competition began Feb. 26, 2018, with a field of nearly 150 nominees narrowed down by STAT journalists and editors to 64 entries – identical to the NCAA tournament bracket. Finalists were chosen by the public and advanced through the brackets based on popular vote.
Children's multidisciplinary team includes researchers from Sheikh Zayed Institute for Pediatric Surgical Innovation and the Rare Disease Institute and works in tandem with researchers at National Human Genome Research Institute within the National Institutes of Health. The team's facial recognition technology has been tested in diverse patients around the world and can quickly detect a number of common genetic conditions and rare diseases, such as:
In the STAT Madness championship round, Children's National squares off against a research team from East Carolina University. Voting concludes at 5 p.m. Friday, March 30. STAT will announce the overall winner on Monday, April 2.
Media contact:
Diedtra Henderson
| 443-610-9826
| 202-476-4500