For children undergoing treatment for cancer and blood disorders, routine procedures may induce anxiety and add discomfort to their hospital visit. To help with your child's coping and pain management, the Center for Cancer and Blood Disorders has a Music Therapy Program specifically designed to target patients' physical and emotional wellbeing.
A Collaborative Approach
Partnering with psychologists, art therapists, nurses and other interdisciplinary teams in the Oncology and Blood Disorders (Hematology) department, our team brings powerful music experiences to patients of all ages – from tiny babies to teens.
Contact Information
To reach the Music Therapy Program, contact the Center for Cancer and Blood Disorders at 202-476-2140.
Home to the Only Hospital-Based Pediatric Music Therapy Program in the Washington, D.C., Region
Our board-certified music therapists use a variety of evidence-based music interventions to focus on several goals such as the following:
Procedural support. Music therapy demonstrates increased coping behaviors in children prior to and during procedures.
Pain management. Music therapy is effective in reducing pain perception and analgesic use and has a positive impact on the pain experience.
Physiological functions.Music therapy can reduce physiological signs of anxiety in patients being actively weaned from mechanical ventilation. A single music therapy session can be effective in reducing heart rate and respiratory rate.
Coping support. Music therapy can successfully regulate autonomic nervous system activity as it acts as an outlet for self-expression through songwriting, music-making, music listening and lyric analysis.
Familial support. Studies have shown music therapy can increase connectivity between the caregiver and patient.
Developmental support. Music therapy can improve the communication skills, gross or fine motor skills and social skills of patients of varying ages.
Bereavement support. Our music therapists provide legacy-making projects and bereavement-focused sessions for families and patients.
Features of Our Program
Each session, which is at your child's bedside or clinic, is patient-centered. Sessions range from:
Patients or families playing their instrument of choice to preferred music
Music therapist playing a live instrument (such as guitar or drums) while providing directed sensory-focused imagery to reduce your child's anxiety and pain
Improvised or directed movements to the rhythm
Singing/songwriting
Playing instruments
Relaxation-based experiences
To increase socialization, we also offer monthly group therapy sessions (including themed events in collaboration with other members of the Psychosocial Team) and dance parties in the outpatient clinic twice a week.
Music Therapy Session: Let It Go Video
Listen as our music therapist, Mariagracia Rivas Berger, MT-BC, sings "Let It Go" with a patient.
Healing Through Music Video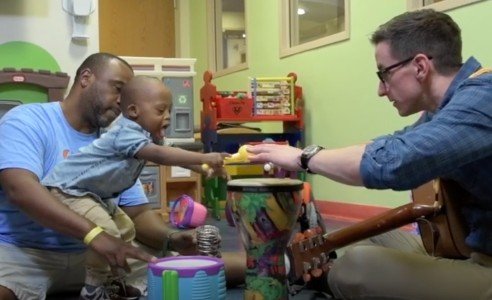 If there are different ways to get sick, shouldn't there be different ways to get well? Learn more about how we help children become stronger through music therapy.
The Effects of Music Therapy Video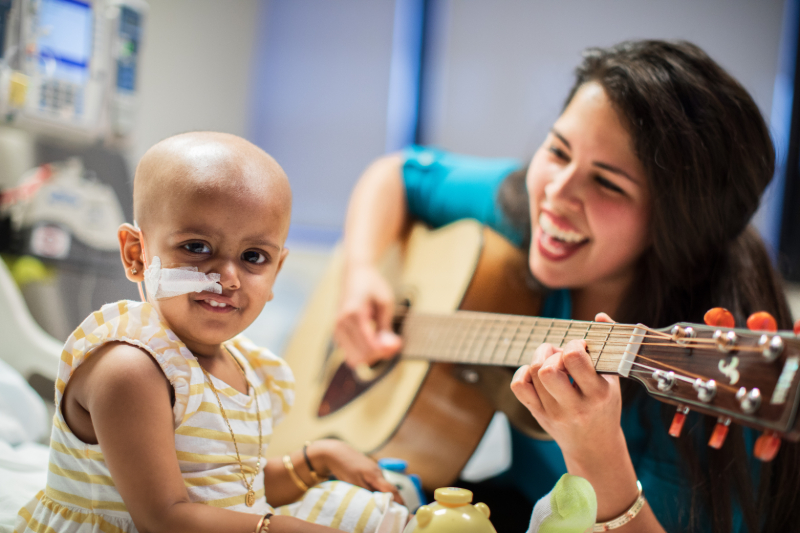 Mariagracia Rivas Berger, MT-BC, a music therapist at Children's National Hospital, discusses the physical and psychological effects of music therapy for children.