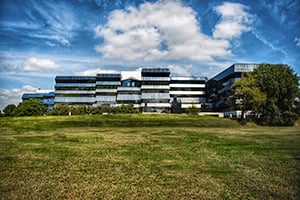 Designed with kids' physical and emotional needs in mind, the Sheikh Zayed Campus for Advanced Pediatric Medicine in Washington, D.C., is home to:
Inpatient facilities with 323 beds.
Outpatient clinics for all major services, with over 103,000 patient visits. (There were also over 86,000 visits to our off-campus outpatient locations, for a total of nearly 190,000 visits.)
The Children's Research Institute, our academic arm, which encompasses the translational, clinical and community research efforts of the organization.
The Sheikh Zayed Institute for Pediatric Surgical Innovation, transforming pediatric surgery and intervention.
The Bear Institute Innovation and Learning Center, using information technology to develop new health solutions for our young patients.