Matt MacVey promoted to executive vice president for Childrens National Hospital
MacVey's chief information officer role elevated from vice president to executive vice president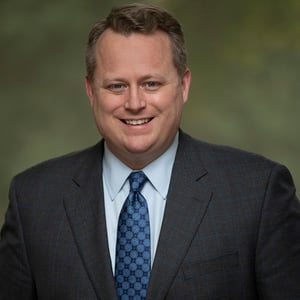 Reflecting a continued investment in information technology, Children's National Hospital elevated the role of the chief information officer (CIO) to executive vice president (EVP). Matt MacVey, who served as vice president and CIO, became an EVP and CIO effective Jan. 1, 2022. He now reports directly to President and Chief Executive Officer Kurt Newman, M.D.
"Elevating this role reinforces the critical role IT systems play in serving patients and their families, ensuring more seamless alignment of the many complex systems involved," said Dr. Newman. "Under Matt's leadership, we have already dramatically improved many of our information technology platforms and have strengthened our cybersecurity. Our goal is ensuring the best possible systems to deliver care and protect patient privacy and safety."
As EVP and CIO, MacVey will lead the continued modernization of infrastructure and cybersecurity functions, and work to identify and deploy the best information technologies needed to support clinical care and biomedical research. MacVey will also facilitate the development of contemporary digital platforms that advance consumer engagement business strategy.
"Children's National has a world-class team of care providers and researchers and it is a privilege to make sure they have the tools they need to serve our patients and families as well as find new and better ways to improve child health," said MacVey. "By more tightly aligning all specialized teams that comprise our IT enterprise, we will accelerate modernization of our infrastructure, development of consumer digital engagement solutions and strategic utilization of data."
MacVey will also lead the teams that create interoperability between systems to maximize safety, increase efficiency, support clinical decision-making and enable seamless care across physical and virtual environments.
Prior to joining Children's National as VP and CIO in July 2019, MacVey served as vice president for the
Bear Institute
at Children's National Hospital, a collaboration with the Cerner Corporation. He spent 18 years with the Cerner Corporation in various executive roles, and has significant experience designing, deploying and managing enterprise-wide health care information technologies. He is a certified Chief Information Officer through The College of Healthcare Information Management Executives. MacVey received a Master of Science degree from Weill Cornell Graduate School of Medical Sciences and an MBA from Cornell University.
About Children's National Hospital