Michelle McGuire, M.B.A., appointed as executive vice president and chief strategy officer for Children's National Hospital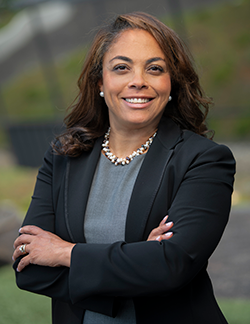 Following an extensive nationwide search, Children's National Hospital has named Michelle McGuire, M.B.A., executive vice president (EVP) and chief strategy officer (CSO).
McGuire took on the strategy portfolio in March 2020 and has been serving in the interim EVP and CSO role since August 2020, following the retirement of the prior CSO. Previously McGuire served as vice president and chief of staff where she supported Children's National president and chief executive officer
Kurt Newman, M.D.
, and the leadership team on the execution of critical business functions across the organization.
"Health care has always been a rapidly changing industry and the pandemic accelerated that trend. Our strategy has never been more important," said Dr. Newman. "Michelle is a dynamic leader and future-facing strategist whose deep analytical skills and ability to develop quick, keen insights will ensure we develop the programs, partnerships and services that allow us to continue to deliver world-class care to every patient."
As EVP and CSO, McGuire will lead the formulation and implementation of the health system's strategy, ensuring the alignment of organizational priorities and execution of the Children's National strategic plan. Additionally, she will oversee external-facing functions which support strategy, new initiatives and market development, including Children's National's international portfolio, Marketing and Communications, Community Engagement, Advocacy and Government Affairs.
"It's a privilege to take on the role of EVP and CSO at Children's National and I look forward to collaborating across our health system to drive innovation and foster creative thinking about Children's National's future," said McGuire. "I want to help ensure we remain well-positioned to care for our families and the communities we serve. As one of the top children's hospitals in the country, through the delivery of excellent clinical care and execution of pediatric research and advocacy, we will continue to leverage new growth opportunities in order to improve health outcomes for children regionally, nationally and internationally."
Michelle's professional experience includes providing analysis and business solutions to Fortune 50 companies. She spent the majority of her career at Deloitte Consulting in New York, where she led engagements in strategy, business process improvement and corporate governance.
McGuire earned her M.B.A. in Finance from NYU Stern School of Business and her bachelor's degree in economics from Smith College.
Media contact:
Media
About Children's National Hospital