Children's National leader selected as a 2018 Fellow for the American Academy of Nursing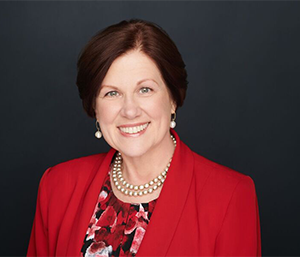 WASHINGTON -The American Academy of Nursing (AAN) has selected Mary Daymont, M.S.N, R.N., vice president of Revenue Cycle and Care Management as a 2018 AAN Fellow inductee. With over 2,500 members, AAN Fellows represent nursing's most accomplished leaders in education management, practice and research. The Academy serves the public and the nursing profession by advancing health policy, practice and science through organizational excellence and effective nursing leadership.
Daymont joined Children's National in 2002 as the manager of Clinical Resources Management under the leadership of Kathleen Gorman, M.S.N., R.N., F.A.A.N., executive vice president of Patient Care Services and chief operating officer, and Kurt Newman, M.D., president and CEO of Children's National. She credits the exemplary leadership of both Gorman and Dr. Newman, who then served as her physician advisor, for her decision to join Children's National.
Throughout her tenure, has worked closely with managed care contracting teams and financial services, which has allowed her to rise through the ranks to her current position.
As VP of Revenue Cycle and Care Management, Daymont is responsible for revenue cycle, which includes patient access and registration for hospital based departments—revenue integrity including health information management, facility and professional coding, facility and professional charge master and strategic pricing and clinical financial auditing – and patient financial services including hospital and professional billing. In care management she oversees inpatient and outpatient case managers who work with patients, families, care teams and payers. Daymont also leads national groups in testing and implementing care management models for high risk and vulnerable patient populations. In partnership with the Children's Hospital Association she develops children's healthcare policy; improves clinical care and outcomes; enhances knowledge and innovation; and improves cost, quality and care on the continuum of pediatric healthcare.
"This accomplishment exemplifies Mary's hard work as a hospital leader and her dedication to excellence on a national level," says Kathleen Gorman. "Her continuous efforts as an advocate for children have improved health care services for our region's most underserved children and their families. I am thrilled that she is being inducted as a Fellow in the American Academy of Nursing for her inspirational work in advancing coordination of care across the country in vulnerable populations."
Mary completed both her undergraduate and graduate studies at George Mason University. She previously served 12 years in the public health sector working in communities with populations that had limited access to healthcare. Mary also served as the regional director of hospital services management at Kaiser Permanente Mid-Atlantic States.
With hopes to influence healthcare policy and advocate on behalf of children across the globe, Daymont will officially become a Fellow in November.
Media contact: Simone Hunter | 301-244-6730 | 202-476-4500