Alec King receives Washington Business Journal's 40 Under 40 award for 2018
Honorees recognized for leadership in their industries and impact on greater Washington community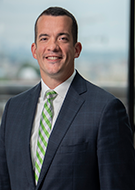 WASHINGTON – Alec King, MBA, executive vice president and chief financial officer (CFO) at Children's National Health System, was honored as one of 40 recipients of the Washington Business Journal's 2018 40 under 40 award.
"I'm thrilled to be selected as one of the honorees for the Washington Business Journal's 40 under 40 awards," King says. "The work done at Children's National is remarkable, and I'm proud to represent the commitment of the hospital, staff and our patients in supporting the greater Washington community."
At age 37, King became the youngest CFO in Children's National nearly 150-year history and one of the youngest CFOs of a large U.S. healthcare system. In this role, he oversees the hospital's $1.3 billion operating budget with almost 7,000 employees. King is also is responsible for long-term economic planning, the annual budget, revenue cycle and reimbursement, accounting and reporting, treasury and banking, supply chain services and decision support.
"Since Alec joined Children's National, he has revitalized the financial and business reporting structure, adding more transparency, collaboration and anticipatory capabilities," says Kurt Newman, M.D., Children's National president and CEO. "We're proud Alec is being recognized for his broad leadership, accomplishments and his commitment to ensuring our hospital and staff have access to the best financial resources needed to be successful."
The 40 under 40 award honors the region's best and brightest young business leaders who have continued to demonstrate success over the past 12 to 18 months across all industries and who are making a difference in their professions and community. Each nominee was judged based on professional accomplishments, community leadership, awards and milestones.
This year the 40 under 40 awards took place in the PNC Diamond Club at Nationals Park. During the event, honorees had the opportunity to network, take batting practice in the Washington Nationals' indoor batting cages and had access to players' dugouts.