Cerner Honored for Advancing Pediatric Care
Children's National Health System Names Children's Innovation Award Recipient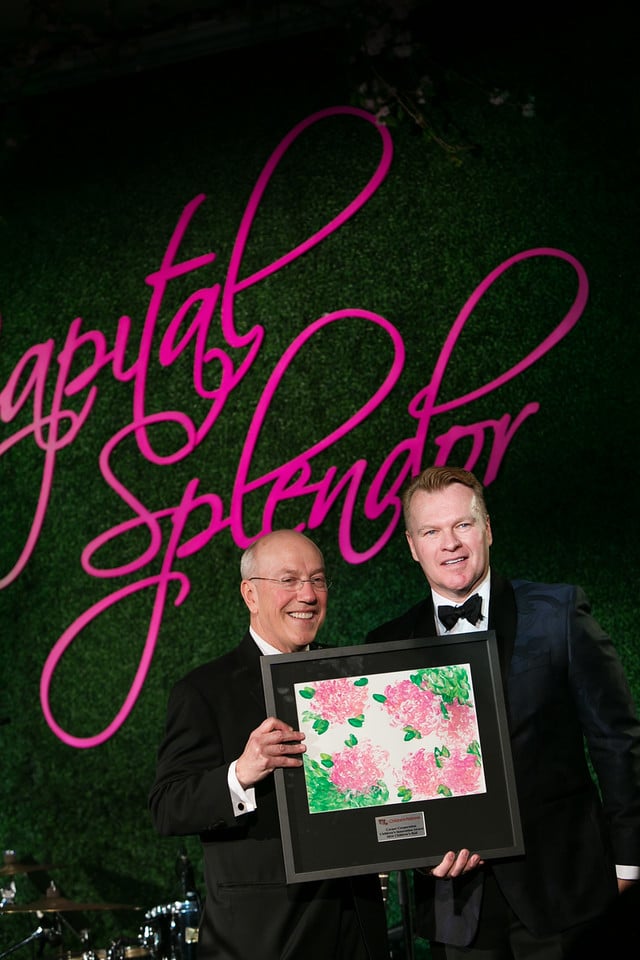 Washington, DC - Children's National Health System honored Cerner with the Children's Innovation Award for the advancement and innovation of pediatric care through the Bear Institute for Health Innovation. Dr. Kurt Newman, president and CEO of Children's National, presented the award to Cerner President Zane Burke at the 10th annual Children's Ball on April 15.
"Cerner's innovations support our ability to help children reach their full potential and provide access to quality health care," said Dr. Newman. "Cerner's work is driving quality, safety and financial benefits to our organization while improving outcomes for children and providing a better experience for families."
In 2013, Cerner expanded its partnership with Children's National to launch the Bear Institute, the nation's first pediatric institute focused on advancing the health and well-being of children through innovative information technology (IT) and unique collaboration. The Bear Institute's mission is to foster innovation, advance clinical care and create a world class IT structure to improve outcomes and service.
"Cerner is honored to be recognized with this award, and we are proud to see such transformational success from the industry's first pediatric health IT institute," said Burke. "Cerner and Children's National continue to work toward a shared vision of helping children get the best possible start to long, healthy lives. We look forward to continued advancement and innovation as part of our commitment to improving patient care worldwide."
Due to the institute's success, Children's National was recognized with the Transformational Leadership Award from the College of Healthcare Information Management Executives and American Hospital Association in October. Recent innovations and accomplishments include:
Developed MyBearGuide, a mobile patient and family engagement app that provides step-by-step wayfinding, displays emergency department wait times and outlines other hospital services and amenities
Developed and implemented Quality Boards, highly visible dashboards that display real-time quality and safety indicators, which were recognized as a Magnet® best practice and featured in the Joint Commission Journal on Quality and Patient Safety
Maintained high levels of mobile communication among nurses and providers through CareAware Connect™ as users sent a quarterly average of 325,000 secure text messages and 428,000 calls since July
Engaged 75 percent of its workforce with multiple health and well-being initiatives, anchored by the Cerner WellnessSM engagement portal and coupled with additional services such as lab and biometric screenings and health coaching
In addition to its cutting-edge initiatives with Children's National, Cerner has also been a passionate supporter of the health system's philanthropic efforts. The Bear Institute and Cerner have supported the Children's Ball, Junior Council's Dancing After Dark, the Race for Every Child and other charitable initiatives.
Contact: Erin Corchoran, [email protected]; 301-565-8523 or Angela Vogen, [email protected]; 816-571-9189
About Cerner
Cerner's health information technologies connect people, information and systems at more than 20,000 facilities worldwide. Recognized for innovation, Cerner solutions assist clinicians in making care decisions and enable organizations to manage the health of populations. The company also offers an integrated clinical and financial system to help health care organizations manage revenue, as well as a wide range of services to support clients' clinical, financial and operational needs. Cerner's mission is to contribute to the systemic improvement of health care delivery and the health of communities. For more information about Cerner, visit cerner.com, read our blog at cerner.com/blog, connect with us on Twitter at twitter.com/cerner and on Facebook at facebook.com/cerner. Our website, blog, Twitter account and Facebook page contain a significant amount of information about Cerner, including financial and other information for investors.