Children's National Celebrates National Health IT Week October 5-9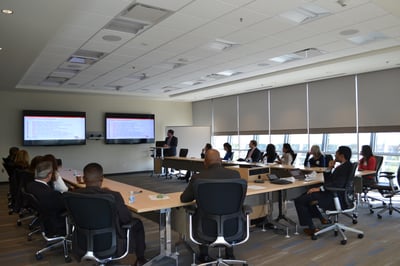 Washington, DC – In celebration of National Health IT Week, October 5-9, 2015, Children's National Health System is participating in a number of initiatives with the federal government and the Health Information and Management Systems Society (HIMSS), including a site visit showcasing technology innovations in practice. On Monday, October 5, Children's National hosted a visit to the Bear Institute Innovation and Learning Center for representatives from Congress, Health and Human Services, the Veterans Administration, and HIMSS.
During the visit, groups saw the use of health IT in care delivery firsthand, witnessing real-time, automated quality dashboards derived from electronic health record (EHR) data, and met with clinical staff to learn about technology's real-world applications in a hospital-based setting. Researchers at Children's National recently published findings that the quality dashboards, currently installed in the intensive care units, have demonstrated significant improvements to the quality and safety of clinical care.
"Health IT certainly plays an increasingly critical role in healthcare, especially as we harvest essential health data and use this information to find opportunities to improve care delivery, safety, education, and research," says Brian Jacobs, MD, Vice President, Chief Medical Information Officer and Chief Information Officer. "We're honored to have the opportunity during National Health IT Week to showcase the innovations at Children's National, and educate federal employees and HIMSS staff on the value of information technology in pediatric healthcare delivery."
On Wednesday, Dr. Jacobs participated in the HIMSS Policy Summit Panel addressing the progression of key health IT initiatives including EHR adoption, Meaningful Use, and innovative technologies that are transforming quality of care, patient experience, and population health.
Children's National is a national leader in IT innovation in pediatric care, forming the first pediatric health informatics institute in the country, the Bear Institute, with Cerner Corporation in 2013. The Bear Institute focuses on improving children's health through innovative information technology and conducts IT research and development to improve patient safety, quality, and experience for pediatric patients at Children's National and across the country. Earlier this year, Children's National received a 2015 Computerworld Data+ Editors' Choice Award for its work in geospatial analytics to inform clinical care and better understand certain health conditions in the Washington, DC, region.
Contact: Caitlyn Camacho at 202-476-4500.
###