GW School of Medicine and Health Sciences Taps Stephen J. Teach, MD, MPH, as Chair of the Department of Pediatrics
Washington, DC — The George Washington University (GW) School of Medicine and Health Sciences (SMHS), in collaboration with its pediatric clinical partner Children's National Health System, is pleased to announce that Stephen J. Teach, MD, MPH, will serve as the Chair for the Department of Pediatrics. In this role, Dr. Teach will have oversight of the education and academic activities of faculty in the department.

"I am pleased that Dr. Teach will become the next Chair of the Department of Pediatrics. His dedication to GW, serving as a faculty member, a mentor, and leader make him the right person for this position," said Jeffrey S. Akman, MD '81, RESD '85, Walter A. Bloedorn Professor of Administrative Medicine, Vice President for Health Affairs, and Dean of SMHS.

As Chair, Dr. Teach will be responsible for working in collaboration with the faculty, administration, and other support units at Children's National and SMHS to facilitate an environment that encourages creativity and excellence in clinical practice, medical research, and education and training. He will be responsible for planning, implementing, and managing all medical educational and training activities, including medical student, Graduate Medical Education, and Continuing Medical Education programs; and will develop a program to assess trainee achievement across the full range of competencies. He will provide oversight to maintain accreditation for pediatric training programs.

Additionally, Dr. Teach will manage the evaluation and assessment of faculty academic efforts and manage effective programs to support faculty advancement, as well as support research and scholarship that will develop and nurture a community of physician-scientists and educator-scholars.

Dr. Teach will monitor and report trends in pediatric clinical, research, and education activities, and serve on committees as appropriate. He will also serve on leadership committees at SMHS and on the leadership council of Children's National.

"Dr. Teach combines excellence in clinical care, clinical research, mentorship and advocacy that make him the ideal choice for Chairman of Pediatrics. He will be a strong leader for our education and faculty efforts into the future," said Mark Batshaw, MD, Chief Academic Officer and Physician-in-Chief at Children's National and Associate Dean of Academic Affairs at GW.

Dr. Teach has been a member of the SMHS faculty since 1997 and currently serves as a Professor of Pediatrics and Emergency Medicine. He also serves as a Professor of Prevention and Community Health in the Milken Institute School of Public Health at GW. He is the recipient of many awards and honors, including the Environmental Protection Agency National Environmental Leadership Award in Asthma Management, IMPACT DC; the Faculty Mentorship Award for Clinical Research, Children's National; and has been cited as a "Super Doctor" in Washington, Baltimore, and Northern Virginia, among other honors and awards.

As a well-funded researcher and widely published author, Dr. Teach's work has been featured in multiple prestigious peer-reviewed publications, including Pediatrics, the Journal of Pediatrics, Annals of Emergency Medicine, Pediatric Emergency Care, and many other journals. He has written book chapters and reviews, contributed in textbook editing, and contributed to many publications.

Dr. Teach is regularly invited to present at national and international academic meetings, speaking on a range of topics, including asthma and topics associated with asthma exacerbations, racial and social disparities in care, emergency medicine delivery, diagnostic testing, and the use of electronic communication in care delivery.
Dr. Teach will assume his role as Chair of the Department of Pediatrics on July 1, 2014.
Contact: Emily Hartman or Caitlyn Camacho at 202-476-4500.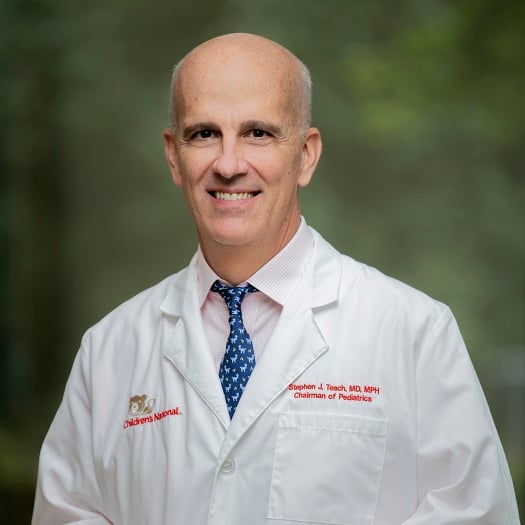 Stephen J. Teach, MD,MPH
Chair, Department of Pediatrics
Associate Dean, Pediatric Faculty Affairs
Stephen J. Teach, MD,MPH
Locations
Departments