Meet Megan Bellagamba
Shift Coordinator, Neonatal Intensive Care Unit (NICU)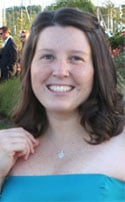 Megan Bellagamba began working in the NICU at Children's National in July 2006. A valued member of the nursing team, Megan says she enjoys working with patient families and seeing the sickest babies progress and make miraculous strides. She was inspired to become a nurse after her twin nieces were born prematurely and she saw the great care they received during their early days in the NICU.
What sets Megan and our Magnet nursing team at Children's National apart is their utmost dedication to caring for patients and families and the way they go above and beyond every day to care for those around them, even for those outside the walls of Children's National.
In an unexpected sequence of events, Megan took live-saving steps to save someone whom she had never met, in an emergency situation. In an instant Megan was called upon to use her medical training and expertise to assist Pam Feil, a fellow patron at a restaurant in Virginia.
At Children's National, we continue to be proud of the work our nurses do every day, and the impact they make at Children's National and in the community. Our team would like to give a special thank you to Ms. Feil for recognizing Megan, and sharing her story.