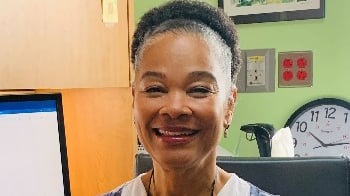 Meet Cassandra "Sandy" Charity
Radiology Nurse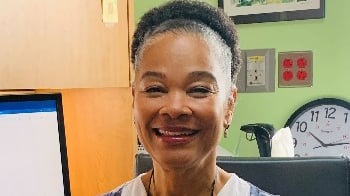 "I work with a great group of people. I also love the hospital's philosophy about commitment and compassion. Compassion is at the center of everything I do."
Cassandra "Sandy" Charity has kept compassion at the center of her work at Children's National Hospital for an incredible 40 years! Sandy grew up in the Petworth area of Washington, D.C., with five siblings and a squeamish mom whose cure for every injury, scrape and scar was rubbing alcohol sealed with Mercuricome. "I would jump in and help the kids in the neighborhood and knew there had to be a better solution than pouring alcohol into an open wound!" Despite helping her friends - pediatrics wasn't always on Sandy's mind for a career. Growing up, she wanted to dance and act on Broadway in New York City. Her mom encouraged her to go with something more stable and so she chose medicine.
While in school, Sandy joined the neurology unit at Howard University where she loved working with adults who needed care after having a stroke. That all changed after her first rotation on the burn unit at Children's National. "That was it. I loved the burn unit and loved getting the children cleaned up, removing scabs and wrapping wounds after putting the ointment on. It didn't burn like the alcohol my mom used." Not long after her time in the burn unit, did Sandy apply for and secure one of the 25 openings in the NICU. "I cried every day for the first six months. The babies were so little. I heard that one of the charge nurses didn't think I'd last three months on the unit. Finding that out was enough to get me to push through. I hung in there for six months and that turned to 19 years."
Today, Sandy proudly cares for children when they come in for their scans and radiology appointments, helping them get comfortable with the MRI, CT and nuclear medicine machines. With all her patients, the goal is to achieve "non-sedation." She even comes in early to help families who may need a little more attention and care. "Everybody's a VIP in my book. I talk directly to the children - we babble about what they're going to eat, all the details - so that when I have to do the covid test and the imaging, they trust me. I like to be a familiar person to the children so that when they come back, they know they're going to be ok. Sandy also credited the entire team and said that it takes everyone from the child life specialists, techs, nurses, and physicians, to get kids to where they need to be. Just last week, Sandy cared for a young girl who came in for her first MRI and described her technique: "I try to give children whatever control they can have at the moment. I asked her when I should start and ended up counting down with her. Afterward, the girl turned to her parents and said, "My god she's a miracle worker. Can we come here the next time I need an MRI?"
In August, Sandy will celebrate 41 years at Children's National and we couldn't be prouder. Thank you for many decades of commitment and compassion!