Our Values
Pediatric primary care works to improve the health of children and young adults. Learn more about our compassion and commitment.
Children's National primary care has a long-standing commitment to excellent patient experiences, high-quality care, advocacy and education. Our core values guide our efforts. Patients and families can expect care delivered with:
Compassion: We serve all with warmth and kindness
Commitment: We lead with dedication and discovery
Connection: We team up for success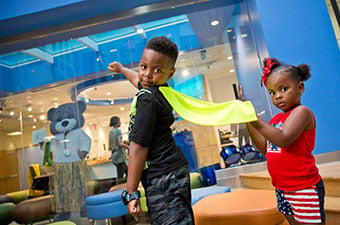 Our passion is serving children and their families. We understand the great privilege a parent entrusts in us to deliver the right care at the right time, in a safe and affordable way.
We have worked to advance diversity, equity and inclusion in pediatric medicine for more than two decades. What's more, these efforts have significantly expanded in recent years to include initiatives for creating a better, more equitable experience for patients, their families and all employees.
Pediatricians and nurse practitioners at Children's National primary care practices provide care for everyday conditions children face, such as a cough, fever, rash or a minor injury. For more complex needs such as care of diabetes, neurologic disorders, heart disease or gastroenterology, our health system brings together hundreds of experts across all fields of medicine. Our compassion, experience, resources and the latest technologies bring the best care to your child.