Our Services
Check-ups, immunizations, sick visits, specialty services and more are available at Children's National primary care practices.
Children's healthcare needs are unique throughout all stages of their development. That's why we offer convenient, comprehensive pediatric care at dozens of locations throughout the region. In addition to providing routine and preventive care, our pediatricians are connected to Children's National Hospital, which is ranked #5 in the nation by U.S. News & World Report.
We have pediatric offices throughout Maryland and Washington, D.C., to increase your access to our primary care services: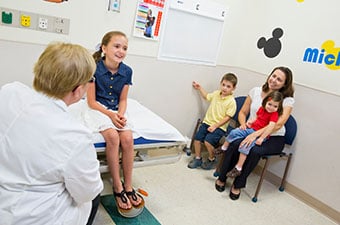 Children's Health Centers
Children's Health Centers serve as a medical home for your child as part of primary care plus, which provides primary care and some specialty services for your child. Children's Health Centers are located throughout Washington, D.C.
Children's National Pediatricians & Associates 
CNPAs serve as a medical home for your child as well, offering routine primary care including prevention, wellness and sick visits. CNPA has locations throughout Maryland and in Washington, D.C.
Our Care Services
Pediatric primary care serves as a medical home for your child. We learn all we can about your child's health history, social behaviors, medications or any specialists seen. This knowledge helps build a lasting patient/provider relationship with services that are integrated and focused on the well-being of your child. Services we offer may include:
Assistance connecting with needed community services
Breastfeeding support and infant nutrition
Care for children with disabilities
Care for minor injuries and illnesses
Comprehensive adolescent healthcare
Developmental testing and screening
Evaluation and counseling for behavioral, emotional and learning problems
Hearing and vision screening
Help with Medicaid applications
New patient and newborn evaluations
On-site psychology services (available at some locations)
Prescription refills
Referrals to Children's National specialists
School, sports and camp physicals
School and daycare health forms
Sexual and reproductive health
Sick visits/same day appointments available
Specialty care for asthma, mental health and obesity
Well child check-ups, immunizations and flu shots
WIC-special supplemental food program for women, infants and children (available at some locations)
Rise and Shine
When should I take my child for her first gynecological exam?
The American College of Obstetricians and Gynecologists (ACOG) recommends visiting an obstetrician-gynecologist (OB/GYN) for the first time between ages 13-15.