Columbia Heights: Current Patients
Your child's pediatrician offers preventive care, treats illnesses and cares for minor injuries.
As part of primary care "plus" at Children's Health Centers, we also provide specialty care for certain conditions, including behavioral health, asthma and obesity management. If your child needs additional services for a complex or chronic condition, we'll connect you to specialists and coordinate those services. We work with specialists experienced in treating conditions related to nutrition, heart care, diabetes, behavior, gastroenterology, gynecology and more. The Children's Health Centers primary care team is here for you and your family.
Scheduling routine and urgent sick visits is easy and we always do our best to accommodate busy schedules and your preferences. Depending on the urgency of the appointment, we make every effort to meet your needs within 24 to 48 hours.
If your child is sick, he or she is welcome at any of our health centers around the city – wherever is most convenient for you.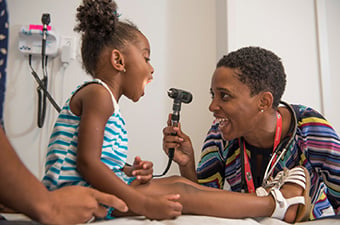 Prescription Refill Information
If your child needs a prescription refill, please log-in to the patient portal to submit your request. You can also contact your pediatrician's office directly and our team will send an electronic order to your pharmacy.
Access Our Patient Portal
The Children's Health Center Medical Home Patient Portal allows you to prepare for your visit by sending messages, requesting appointments, refilling prescriptions or completing school forms and referrals. You can also check lab results and stay up-to-date on preventive care such as flu shots. These portals can be accessed anytime through your smartphone, tablet or computer.
Visiting Children's National Hospital for Care
If your child has an upcoming surgery or needs inpatient care and will be at our hospital, you can access general information about inpatient visitor guidelines and visiting hours, parking and hospital amenities. Learn more about visiting Children's National.
To schedule an appointment with a specialty care provider at Children's National, please call the Bear Line at 1-888-884-BEAR (2327).
| | |
| --- | --- |
| 3336 14th St NW | Phone: 202-476-5580 |
| Washington, DC 20010 | Fax: 202-476-7611 |
| | |
Mon, Tue, Wed, Thu, Fri, Sat: 8 a.m. - 4 p.m.
Sun: Closed
To keep our patients, visitors, and staff healthy, we will be closing at 4 pm until further notice. We will continue to offer telehealth visits during our evening hours as well as appt. scheduling and nurse advice. This change is temporary during the current COVID-19 pandemic.